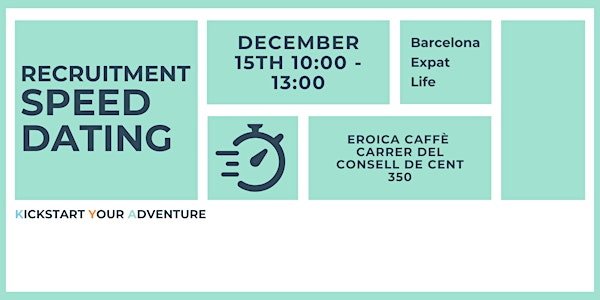 Recruitment Speed Dating
Are you looking for a job in Barcelona? This speed date event gives you the opportunity to speak one-on-one with different recruiters.
When and where
Location
Eroica Caffè Barcelona 350 Carrer del Consell de Cent 08009 Barcelona Spain
About this event
Are you looking for a multilingual job in Barcelona? Barcelona Expat Life is organising a recruitment Speed Dating event which is the perfect place to speak with recruiters one-on-one in an informal setting. This is the place to expand your international network in a small period of time and increase your chances of getting a job!
The Recruitment Speed Dating will take place on Thursday, December 15th at Eroica Caffè, from 10:00 AM until 13:00 PM.
How does it work?
- Reserve your desired time slot. Please note that only 1 time slot per person is allowed.
-During the coming weeks we will inform you about the companies who will participate in the Speed Dating event
- On the day of the event, make sure you are on time.
- As soon as you arrive you will be welcomed by one of our team members. He/she will give you further instructions.
- Pay attention to the fact that we work on a first-come, first-serve basis.
Entrance is free with online registration, tickets are limited! One time slot per person.
Who will be joining us at the event?
Talent Search People
BizAway Barcelona
Swapfiets Barcelona
Follow us on Instagram!
Check out our website for more job offers in Barcelona.
#WORKBARCELONA #KICKSTARTYOURADVENTURE