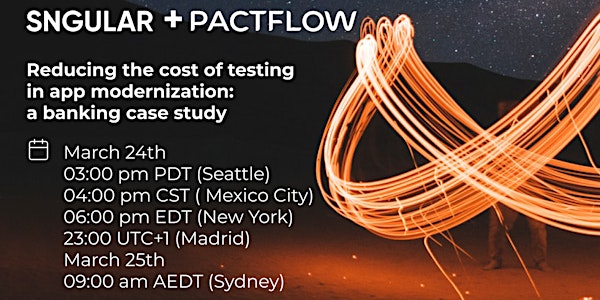 Reducing the cost of testing in app modernization: a banking case study
Join us to hear how Sngular and Pactflow have supported a large US-based bank in transforming their application testing strategy.
About this event
Join us to hear how Sngular has supported a large US-based bank in transforming their testing strategy for an application modernization initiative, to reduce the reliance on long and expensive manual end-to-end tests with contract testing. In this case study, you will discover how the improvement of these processes and the inclusion of tools such as Pactflow, have generated benefits like early detection of errors, reduction of development costs, and minimization of service outages.
Francisco Moreno Sanz, Director of QA at Sngular, along with Matt Fellows, Co-Founder of Pactflow, will share how a recent partnership enabled the delivery of a 70% reduction in manual testing costs for a major US-based mortgage lender.
What you'll learn:
How to introduce a new practice into development teams
How to improve confidence in the delivery and testing process with the help of contract testing
How to measure effective delivery
Who should attend:
Engineers, QAs, Testers
Head of Architecture, Engineering or Quality
Working in banking & financial services organizations
Early or mid-application modernization journey
This event will be recorded. If you are unable to make it we will provide a copy of the recording to the email address you have provided.
By registering for this event, you opt in to receiving communications information from the organizers, Sngular and Pactflow.
About Sngular
Sngular (BME Growth Exchange: SNG) is an international technology consultancy with over 1.145 employees across 8 countries, that works as an ecosystem to provide a host of technology services and solutions to many of the world's leading companies in industries as diverse as energy, financial services, healthcare, retail, telecommunications and manufacturing.
About Pactflow
Pactflow is the leading platform for companies to eliminate pains of testing microservices as they scale. With Pactflow, teams can deploy faster with confidence, reduce service outages and decrease costs associated with traditional testing. Pactflow.io