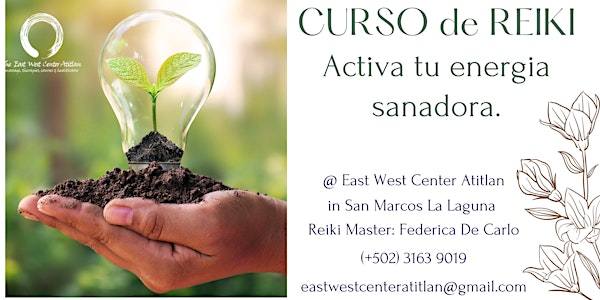 Reiki Usui course
Access your healing Energy and learn Reiki in San Marcos la Laguna. Hosted by Reiki Master Federica De Carlo at the East West Center Atitlan
When and where
Location
East West Center Atitlàn Xepotrela San Pablo La Laguna, Sololá 07015 Guatemala
Refund Policy
Contact the organizer to request a refund.
Eventbrite's fee is nonrefundable.
About this event
Reiki Course Level 1 at East West Center Atitlan, San Marcos La Laguna.
Reiki empowers you to be in tune with your own natural healing energies, to remove energy blocks, make better choices that fulfill you on a deeper level and avoid ones that waste your time (food and even people that are in energetic harmony with you). Reiki gives you the tools to function in a peak energetic state.
You will be able to work with other people's energy in a way that harmonizes and rejuvenates them on a physical and emotional level, eject negative energy and relieving pain.
During the Reiki Course Level 1 you will learn:
• The History of Reiki.
• The 5 Reiki principles.
• Study of the 7 main chakras of our body.
• The self-therapy session.
• The therapy session for other people, plants and animals.
• Initiation to Reiki energy level I.
• The 21 days of cleaning.
• Balancing meditation and connection with the Reiki energy.
PROGRAMA DEL CURSO DE REIKI NIVEL 1 en Castellano
• Introducción al Reiki.
• Características y beneficios del método.
• La Historia del Reiki.
• Los 5 principios de Reiki.
• Estudio de los 7 chakras principales de nuestro cuerpo.
• La sesión de autoterapia.
• La sesión de terapia para otras personas, hogar, plantas y animales.
• Iniciación al Reiki nivel energético I.
• Los 21 días de limpieza energetica.
• Meditación de equilibrio y conexión con la energía Reiki.
MATERIAL ENTREGADO:
Se proporcionará el siguiente material como apoyo y recordatorio a la explicación dada durante el Curso de Reiki Nivel 1:
• Un manual con todo el contenido del curso.
• Un manual explicativo de los Chakras.
• Tutoría y consultas para los 21 días de limpieza interna posterior al curso.
• Servicio de asesoramiento continuo y gratuito para la resolución de dudas sobre la práctica de Reiki (vía e-mail, WhatsApp).
Sesiones: 2 días.
Horas lectivas: 8 horas. (9:00 am - 1:00 pm)
Organizado por: Federica De Carlo en "The East West Center Atitlan"
Lugar: Calle Principal entre San Pedro La Laguna y San Marcos La Laguna
Cómo llegar: Servicio de lancha a muelle San Marcos La Laguna / Tuk Tuk (Mototaxi)
Contacto: +502 3163 9019
Plazas: Limitadas, previa reserva