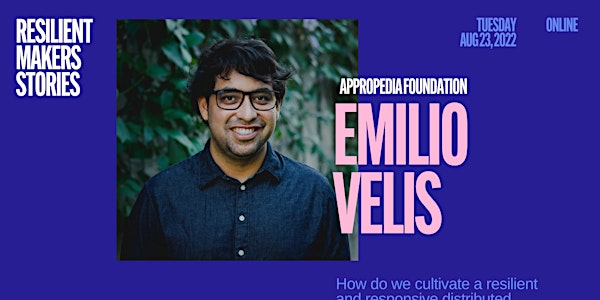 Resilient Makers Stories: Emilio Velis
Responding to moments of crisis
About this event
How do we cultivate a resilient and responsive distributed design community?
From August 23rd to October 17th Fab Lab Barcelona is hosting a by-weekly online chat series, where guests share their personal experiences of responding to moments of crisis. The aim is to collaboratively work on a shared vision, align values, and develop best practices.
On August 23rd. we will welcome the first guest Emilio Velis. He is the Executive Director of Appropedia Foundation, a US-based nonprofit focused on access to knowledge regarding sustainability and development. Emilio is an advocate of the open movement through social impact areas such as open licenses, environmental sustainability, and appropriate technologies to improve vulnerable communities. He is a Fellow of the 16th CALI Foundation class and an Aspen Global Leadership Network member.
Those chat series will be facilitated by Jean Luc Pierite, as part of the MDEF Residency Program. They are part of the european project Reservist that aims to establish a network of 'reservist cells', resilient networks that can be activated within 48hrs to switch to manufacturing medical products and services that are spiking in demand. Reservist has received funding from the European Union's Horizon 2020 research and innovation programme under grant agreement No. 101016041.