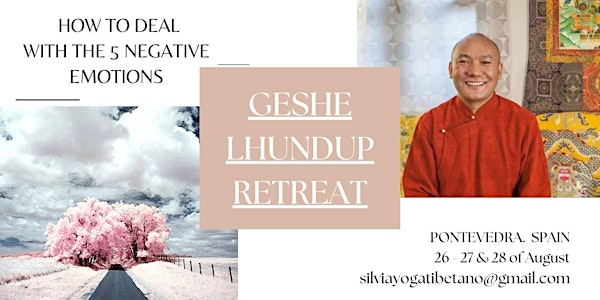 Retreat with Geshe Lhundup
In this weekend retreat with Lama Geshe Lhundup we are going to transform the 5 negative emotions through body, speech and mind.
When and where
Location
Pontevedra Chan n 7 Carballedo 36856 Pontevedra Spain
About this event
>> ABOUT THE RETREAT <<
RETREAT WITH LAMA GESHE LHUNDUP
>> This is a face-to-face retreat <<
Transforming the 5 Negative Emotions through speech, body and mind
> Geshe Lhundup teaches in English. There will be Spanish translation
> Geshe Lhundup will offer the transmission of the 5 Trul-Khor to the participants of the Retreat.
> Very limited places! Small group and higher quality
> Geshe Lhundup teaches in English. We offer Spanish translation.
> Start: Friday 26 of August at 15:00
> Ends: Sunday 28 of August at 4:00 p.m.
> Venue: Lhamo Mandala House. Carballedo - Pontevedra. Galicia. Spain
> Check here the web from Lhamo Mandala House
> Registration: silviayogatibetano@gmail.com
How to deal with negative emotions in everyday life? How to transform pain and suffering through our words, body and mind?
In Tibetan Buddhism it is said that all suffering is caused by 5 main negative emotions: Anger; Jealousy; Pride; Ignorance and Attachment .To deal with these emotions in our day to day life, Bön Buddhism uses a system of teachings called the 5 Trul-Khor, these 5 Trul-Khor or Tibetan yoga movements, are related to 5 mantras (sounds) and 5 meditations , also work the 5 main organs of the body, etc.
During this weekend retreat with Geshela we will delve into how to transform these 5 negative emotions through body, speech and mind, in an easy, simple and affordable way for everyone.
The close, cordial and simple way of explaining Geshela and a secluded but very familiar atmosphere, in the middle of nature, surrounded by people who are looking for the same thing as you, is the ideal space to disconnect from the noise and routine of each day and immerse yourself for a couple of days in your own self-care space.
>> ABOUT THE VENUE <<
> Lhamo Mandala House is a family house in a rural environment, in a small town 20 minutes from Pontevedra
> The space has 4 rooms that sleep 9 people; spacious living room of 70 square meters with fireplace, relaxation area, kitchenette and a large meditation room. Outdoor space with a covered porch and wrought iron and wood tables, a green area with stone tables and an outdoor land next to the river, where you can camp.
> All rooms have an ensuite bathroom
> The meals are simple, homemade, vegetarian, with ecological products whenever possible and made with a lot of love.
>> ABOUT GESHE LHUNDUP <<
Geshe Lhundup, born in Tibet in 1976, is a Geshe (doctor of philosophy) from the Tibetan Bön tradition.
Geshe Lhundup was born into a nomadic family in Tibet, in a small village called Damrani, around the age of 12, he made the decision to become a monk. He entered the Patsang monastery in Kham. Patsang is one of the great family lines of Yungdrung Bön.
He received the teachings and transmissions of Dzogchen and Trul-Khor, as well as the Tsa-Lung from various great Dzogchen masters of the Bön tradition, lineage holders from him, especially during a retreat in a cave in the mountains at 2:00 p.m.
It was in 1993, at the age of 17, that Geshe Lhundup decided to leave his native country. He then went on a pilgrimage to Mount Kailash in Tibet for 2 months. He made 19 circumambulations and finally walked to India. He fled with a group of 29 other people, including four other Bonpo monks, on foot through the Himalayas.
HE Yongdzin Tenzin Namdak Rinpoche, the oldest teacher of the Bön tradition and founder of the Triten Norbutse monastery in Nepal. He encouraged them to continue to the Menri Monastery in India, where they could study to prepare for the Geshe level. (PHD Doctor of Philosophy).
He studied sutras, tantras, and Dzogchen, as well as Tibetan grammar, poetry, astrology, medicine, mandala painting, calligraphy, yoga, and meditation. After 15 years of studies and examinations, he received the Geshe diploma.
In 2010, Geshe Lhundup came to France where she teaches students who want to learn the science of the nature of the mind and who want to discover meditation, the teachings of Dzogchen, and Yundrung Bön: the ancient philosophy of Tibet.
Geshe Tenzin Wangyal Rinpoche contacted him in 2013 with advice and offered to start teaching his students in France for the Ligmincha association. He became the resident lama of Paris and France for a few years and then decided to create his own structure, the Sagesse du Tibet association that represents him.
Geshe Lhundup now lives in Versailles, teaching in France and internationally.
>> ABOUT THE ORGANIZER <<
Hello my Name Is Silvia!:
I am a Tibetan yoga, mandalas and meditation teacher. I learned about "Tibetan yoga" in 2014 in Galicia and I trained as a teacher in 2018 with the Tibetan teacher Tulku Lobsang Rinpoche, since then I have never stopped learning.
In these teachings, being based on Buddhist philosophy, we first seek compassion towards ourselves, and towards all sentient beings, trying to generate a mind full of joy and happiness that inspires us to be a better version.
I was certified as a Yoga Instructor by the Yoga Alliance (200h) in 2016 and then with Tulku Lobsang Rinpoche as a teacher of Lu Jong - Tibetan Healing Yoga (2018), being Tulku-la my refuge master, I follow his teachings throughout Europe and I have participated in numerous retreats with him.
I worked and lived for a year and a half at the Jamyang Buddhist Center in London, an FPMT center, founded by Lama Zopa Rinpoche, where I also taught regular Lu Jong classes and began my Lam Rim studies with Geshe Tenzin Namdak.
In 2019 I organized, on two occasions, the teachings of the Dzogchen master Chaphur Rinpoche, in Galicia, whom I met in 2015 in California.
Major Dharma Teachers: Tulku Lobsang Rinpoche; H.S. Kyapgon Ngawang Tenzin Rinpoche, H.H. Dalai Lama, Chaphur Rinpoche, Geshe Tenzin Namdak, Geshe Lhundup, Jhado Rinpoche, Khensur Jhado Rinpoche.
>> HOW TO JOIN THE RETREAT <<
How to register:
Registration closes 15th of July
Step 1: Accommodation and meals according to your choice
Step 2: Teachings. Choose (Benefactor, standard or economic) according to your possibilities
Step 3: send an email with the choice of accommodation and teachings to: silviayogatibetano@gmail.com to complete registration
>> TEACHINGS <<
We are aware that the situation with the pandemic has left many people in a difficult financial situation, for that reason we have adjusted the rates.
> The rate includes the teachings from Friday to Sunday.
> The Teachings are the same for everyone regardless of the rate you choose.
> Please, choose according to your possibilities:
Benefactor Rate: €180 (154 £)
Standard Rate: €150 (128 £)
Economic Rate: €120 (103 £)
>> ACCOMMODATION AND MEALS <<
Please choose according to your possibilities:
A . In the house of teachings (Lhamo Mandala House)
(Only 10 places available)
Shared mixed room* (for 2 or 3 people), with private bathroom, in the house where the teaching takes place
€150 - per person (128 £)
(Includes accommodation, full board and tea/coffee)
B. Only Teachings
Does not include accommodation.
(Includes full board and tea/coffee)
€87 per person (74 £)
>> HOW TO JOIN THE RETREAT <<
How to register:
Step 1: Accommodation and meals:
30£ registration now. Pay the rest on the day of arrival.
Step 2: Teachings:
Deposit of the option you choose (Benefactor, standard or economic) according to your possibilities
Step 3: send an email with proof of payment of the teachings and the choice of accommodation (A, B or C) to silviayogatibetano@gmail.com
>> ABOUT MEALS <<
> Eating together is an important part of the Retreat, it is a space/time where you can create sangha, practice generosity and kindness and a unique occasion to accompany Geshela, so we encourage people to stay and share food together
> It is not possible to bring your own food*
> Meals will be vegetarian, simple and homemade
> We are very sorry that we cannot offer special meals. If you have any allergies, you can bring your own food. There is a small kitchen, microwave and refrigerator available for those who need to prepare special food*
> Contact the organization for more information**
>> ADDITIONAL INFORMATION <<
> The Retreat can be booked with accommodation or without accommodation.
> It is not possible to bring food from outside.
> Geshe Lhundup teaches in English. Spanish translation will be provided.
> Local Covid-19 regulations apply.
> You will be asked to sign a liability waiver prior to the start of the teachings.
> The reservation of this Retreat is not possible through this website, but by email.
> To book, send your name, address and phone number to silviayogatibetano@gmail.com
>> PLEASE BRING <<
> Meditation cushion
> Blanket and/or yoga mat
> Comfortable clothing
> Pen and paper for notes
>> CANCELLATION POLICY <<
The full fee (except Eventbrite fees or cards) will be refunded if the organization suspends the Retreat.
If you cancel until August 1, 2022, 50% of the fee will be refunded.
If you cancel until August 11, 25% of the fee will be refunded.
As of August 11, no refunds are made.
>> MORE INFORMATION <<
For more information or any questions, contact the organization at:
silviayogatibetano@gmail.com
(whatsapp): +34 667 56 62 68