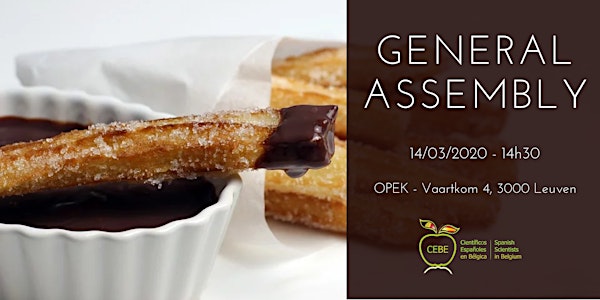 Reunión anual CEBE / General Assembly
Chocolate and Churros - CEBE GENERAL ASSEMBLY
When and where
Location
Vaartkom 4 4 Vaartkom 3000 Leuven Belgium
About this event
One more year we gather all our members for the General Assembly of CEBE. This year you don't have any excuse to miss it: there will be Churros and chocolate!
As every year, CEBE members will vote for the new candidates for the Board of Directors, as well as for the different committees. We will also review the events and activities from the past year, present those for this year, and most importantly, listen to your ideas and suggestions.
Bring your +1 and/or your kids! We want to take this opportunity to meet you all and your families, and create an event where you can exchange ideas and experiences with the rest of CEBE members.
If you are not a CEBE member yet and want to attend, you can register here (https://cebebelgica.es/en_GB/hazte-miembro.html) and become one of us.
Program:
14.30 - Presentation of the activities and events
15.30 - Churros and chocolate
16.30 - Votes + QA
17.30 - closing doors