Sales Have Ended
Ticket sales have ended
Thank you for your interest in the program. Tickets are sold out! Please click below to be added to the wait list.
Sales Have Ended
Ticket sales have ended
Thank you for your interest in the program. Tickets are sold out! Please click below to be added to the wait list.
Description
INGLÉS / ENGLISH <---------------> ESPAÑOL / SPANISH

Please join the Search Inside Yourself Leadership Institute (SIYLI) in Barcelona for the first time for two days of personal and professional development focused on building healthy mental habits for sustained high performance and wellbeing. Developed at Google and based on neuroscience research, the Search Inside Yourself (SIY) program teaches attention and mindfulness training that build the core emotional intelligence skills needed for effective leadership.
We help professionals at all levels adapt, management teams evolve and leaders optimize their impact and influence. Give us your attention for a few days, and we'll show you how to focus it for the rest of your life.
Don't miss this opportunity to enjoy the SIY program in a privileged environment, in the quiet and comfortable Gallery Hotel, located at the very heart of Barcelona, next to Passeig de Gracia, the famous elegant and majestic boulevard flanked with some of the finest modernista buildings.
Curriculum
The SIY curriculum includes:
Neuroscience
Mindfulness
Emotional Intelligence
Leadership
We've implemented our programs in dozens of organizations across industries and around the world using highly practical and scientifically proven methods of mental conditioning and attention training that improve overall emotional intelligence and wellbeing, resilience, creativity, communication, productivity and personal and organizational leadership.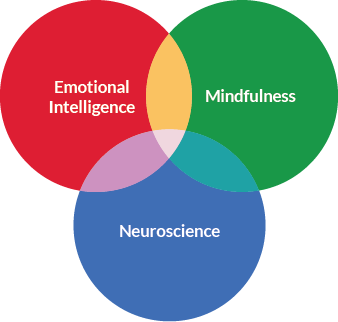 Program Design

Everyone has the capacity to develop and increase wellbeing because wellbeing is a skill, and all skills are trainable.

The highly interactive and experiential program includes the following core components:
Overview of the neuroscience of emotion, perception and behavior change
Definition of emotional intelligence and its personal and professional benefits
Attention training to enable greater emotional intelligence, including self-awareness, self-mastery, motivation and connection with self and others
Principles and practices for developing healthy mental habits that accelerate wellbeing, including effective listening, generosity, empathy, communication and social skills
Mindfulness and reflection practices that support happiness and thriving and overall wellbeing
Exercises include attention training practice, dyad conversations, writing, walking, and group conversations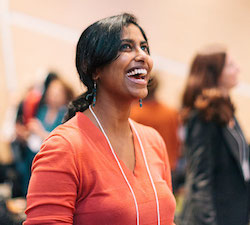 Outcomes

Whether you are coming for personal or professional development or to check out the SIY program for your organization, you will learn foundational skills to:
Enhance mental fitness and clarity
Develop agile and adaptive mindsets
Reduce stress responses
Increase resilience
Improve access to creativity
Develop greater self awareness
Enhance emotion regulation
Improve communication skills
Develop better decision-making skills
Develop greater emotional intelligence
Experience greater overall wellbeing, thrive!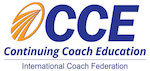 Search Inside Yourself is now accredited by the International Coaching Federation. Coaches now receive 12.33 Continuing Coaching Education credits when attending SIY! Find more information here.
Logistics

Schedule: The program schedule on both November 9th and 10th is from 9:30 AM to 6:00 PM with a lunch break from 1:30 to 3:00 PM

Language: The program will be held in English with simultaneous translation to Spanish.
Food: Tea, coffee and snacks will be provided during the sessions. Lunch will not be provided. There are many restaurants within walking distance.
Transportation: METRO Diagonal (L3, L5) | BUS 7, 22, 24, V15, 6, 33, 34, H8 | FGC Provença (L6, L7) | RENFE Barcelona-Passeig de Gracia
Group Discounts

Contact us for information about special group rates for your organization.
Scholarships
SIYLI believes in radical generosity. When you purchase a ticket to attend, you are supporting scholarships for individuals who cannot afford the full price of a ticket. Scholarship applications will be open while spots are available. Please apply here.

Teachers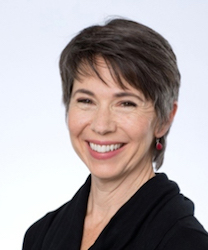 Meg Levie is an executive coach, ordained Zen priest, and master facilitator of the Search Inside Yourself Leadership program. She joined the Search Inside Yourself Institute (SIYLI) in 2012, helping grow the organization from its founding and serving as VP of teacher development. She has trained over 150 SIY teachers and has designed and implemented multiple internal train-the-trainer programs at Google and SAP, resulting in widespread scaling of the SIY program to thousands of employees worldwide.
In her roles as an executive coach, adviser, and trainer, she has worked with leaders from companies ranging from growth to Fortune 500, including Google, SAP, LinkedIn, Nike, Twitter, Genentech, Zynga, Nielsen, Bain and Co., Farmers Insurance, and the Stanford Health Care Alliance.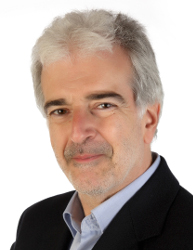 José Antonio Aguilar is a Search Inside Yourself Certified Teacher. He has more that 20 years of experience in the practice of yoga and meditation. He holds a degree in Telecommunications Engineering from the UPC (Barcelona, Spain) and a Master of Science from the University of Illinois at Urbana–Champaign (USA). He worked as a Product Engineer for AT&T Microelectronics, leading complex R&D technological projects in a semiconductor manufacturing plant in Madrid (Spain).
Currently, he lives in Barcelona where he is pioneering the introduction of Search Inside Yourself in Spain. He is professor at the Máster en Coaching y Liderazgo Personal of the Universitat de Barcelona and teaches SIY at the Barcelona Biomedical Research Park (PRBB) and at the Instituto Nacional de Seguridad e Higiene en el Trabajo (INSHT). He is also involved in the organization and teaching of Search Inside Yourself Public Programs in various locations in Spain.
Program Outline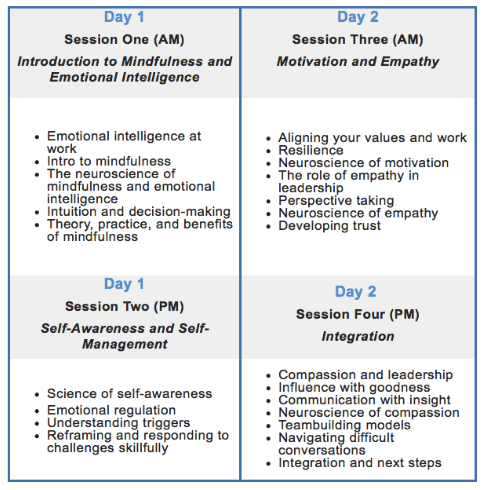 For more information about Search Inside Yourself, visit www.siyli.org

Refund Policy

If you're unable to attend, please feel free to send a substitute for no extra charge. Please just send an email to the organizers to confirm the substitution.
We are unable to provide credit for future programs.
Should you wish to cancel your ticket, a charge of 25% of the registration fee will be made for cancellations received up to 6 weeks prior to the event start date.

No cancellations will be accepted within 6 weeks of the event start date.
Refunds will be issued through Eventbrite and processed within 15 days of notification of cancellation.