Search Inside Yourself (SIY) - The leadership program born at Google - Firs...
Sales Have Ended
Ticket sales have ended
Thank you for your interest in the program. Tickets are sold out! Please click below to be added to the wait list.
Sales Have Ended
Ticket sales have ended
Thank you for your interest in the program. Tickets are sold out! Please click below to be added to the wait list.
Description
INGLÉS / ENGLISH | ESPAÑOL / SPANISH
Please join the Search Inside Yourself Leadership Institute (SIYLI) in Madrid for the first time. Join SIYLI at this program sponsored by Acciona for two days of personal and professional development focused on building healthy mental habits for sustained high performance and wellbeing. Developed at Google and based on neuroscience research, the Search Inside Yourself (SIY) program teaches attention and mindfulness training that build the core emotional intelligence skills needed for effective leadership.
We help professionals at all levels adapt, management teams evolve and leaders optimize their impact and influence. Give us your attention for a few days, and we'll show you how to focus it for the rest of your life.
Curriculum
The SIY curriculum includes:
Neuroscience
Mindfulness
Emotional Intelligence
Leadership
We've implemented our programs in dozens of organizations across industries and around the world using highly practical and scientifically proven methods of mental conditioning and attention training that improve overall emotional intelligence and wellbeing, resilience, creativity, communication, productivity and personal and organizational leadership.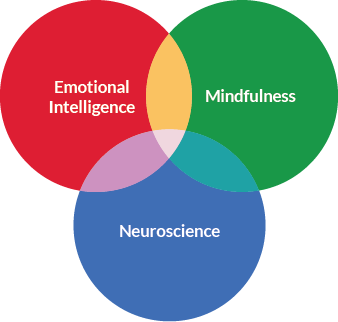 Program Design

Everyone has the capacity to develop and increase wellbeing because wellbeing is a skill, and all skills are trainable.

The highly interactive and experiential program includes the following core components:
Overview of the neuroscience of emotion, perception and behavior change
Definition of emotional intelligence and its personal and professional benefits
Attention training to enable greater emotional intelligence, including self-awareness, self-mastery, motivation and connection with self and others
Principles and practices for developing healthy mental habits that accelerate wellbeing, including effective listening, generosity, empathy, communication and social skills
Mindfulness and reflection practices that support happiness and thriving and overall wellbeing
Exercises include attention training practice, dyad conversations, writing, walking, and group conversations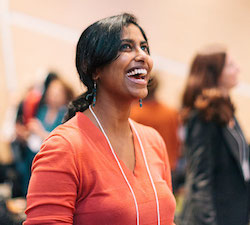 Outcomes

Whether you are coming for personal or professional development or to check out the SIY program for your organization, you will learn foundational skills to:
Enhance mental fitness and clarity
Develop agile and adaptive mindsets
Reduce stress responses
Increase resilience
Improve access to creativity
Develop greater self awareness
Enhance emotion regulation
Improve communication skills
Develop better decision-making skills
Develop greater emotional intelligence
Experience greater overall wellbeing, thrive!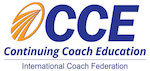 Search Inside Yourself is now accredited by the International Coaching Federation. Coaches now receive 12.33 Continuing Coaching Education credits when attending SIY! Find more information here.
Logistics

Schedule: The program schedule is: Nov 17th, from 9:00 AM to 5:30 PM & Nov 18th, from 9:00 AM to 5:00 PM
Language: The program will be held in English, with simultaneous translation to Spanish.
Food: Tea, coffee and snacks will be provided in the morning and in the afternoon. Lunch will not be provided. There are many restaurants within walking distance and participants will be given time each day to eat lunch.
Transportation: Línea 10 de metro, estación "Ronda de la Comunicación" or Bus 157 desde plaza Castilla.
Teachers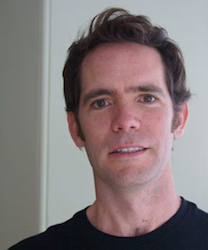 Simon Moyes specializes in offering the wisdom and practices of mindfulness to people living a modern urban life. He leads Young Urban Zen, a program in San Francisco that makes these ancient teachings accessible and relevant to people in their 20s and 30s. He was born in Britain and studied and worked as an architect before focusing on the study of the mind through meditation. After 15 years of intensive mindfulness training in India, Europe and North America—including four years as a Zen monk—Simon now regularly teaches Search Inside Yourself at Google. He also works with the San Francisco Zen Center, leading groups and retreats and serving as project manager for the long-term vision of the organization.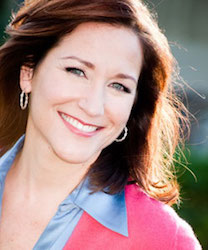 Linda Curtis combines 20 years of real-world corporate experience with a decade of coaching and consulting entrepreneurs, business owners, and corporate and community leaders. She has held senior positions at U.S. Bancorp and The Harris Bank of Chicago and led an award-winner business development team at Visa. Linda has consulted with hundreds of private and corporate clients for such companies as MasterCard, NASDAQ OMX, Oracle, Walgreens, and Yahoo!. Linda attended DePaul University where she studied organizational development and has done post-graduate work at the University of Chicago's Graham School of Continuing Education, the American Management Association and Visa's Bank Card Management School. She is a graduate of the Integral Coaching Program at New Ventures West.
Program Outline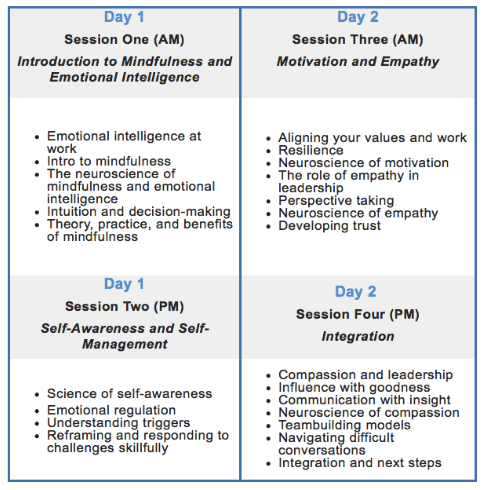 For more information about Search Inside Yourself, visit www.siyli.org
Local Organizers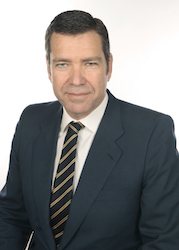 Enrique Escauriaza is a Search Inside Yourself (SIY) Certified Teacher. Enrique is an Executive Coach and an expert in leadership. He teaches mindfulness skills and stress-reduction techniques in large corporations throughout Spain. He has more than 15 years of experience as an executive in innovation companies. He has a Bachelor's Degree in Law and an MBA. He is a senior trainer in Potential Project and has been practicing mindfulness techniques for more than 12 years.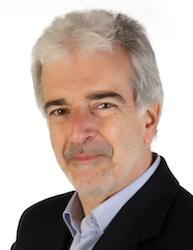 José Antonio Aguilar is a Search Inside Yourself (SIY) Certified Teacher and Mindfulness-Based Stress Reduction (MBSR) Instructor with more that 20 years of experience in yoga and meditation. José Antonio holds a degree in Telecommunications Engineering from the UPC (Barcelona, Spain) and a Master of Science from the University of Illinois at Urbana–Champaign (USA). While working as a Product Engineer in a AT&T Microelectronics semiconductor manufacturing plant in Madrid, he gained experience in leading complex manufacturing, and research and development projects. Currently he lives in Barcelona, where his professional activities center around teaching and promoting the Search Inside Yourself program.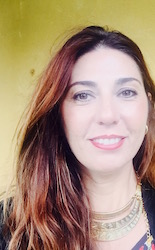 Pilar Nieto is a partner and advisor for leaders & teams in organizations in their process of change and improvement. She is a partner and founder of People and Change Advisory Services. With expertise in human resources and consulting services, she uses her knowledge, empathy, and effort to create and motivate teams to make the change process a positive and rewarding experience. Pilar is also an Associate in ESPERTA, the main distributor in Spain for The Predictive Index (PI®), which is designed to be the most effective science-based assessment that allows businesses to truly understand what drives workplace behaviors and the motivational needs that guide the behavior of the individual in the workplace.
Sponsored by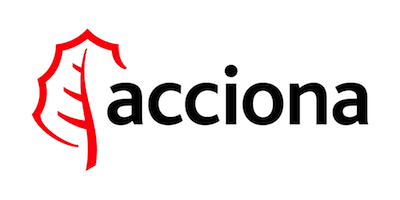 Refund Policy

If you're unable to attend, please feel free to send a substitute for no extra charge. Please just send an email to the organizers to confirm the substitution.
We are unable to provide credit for future programs.
Should you wish to cancel your ticket, a charge of 50% of the registration fee will be made for cancellations received up to 30 days prior to the event start date.

No cancellations will be accepted within 30 days of the event start date.
Refunds will be issued through Eventbrite and processed within 15 days of notification of cancellation.