About this Event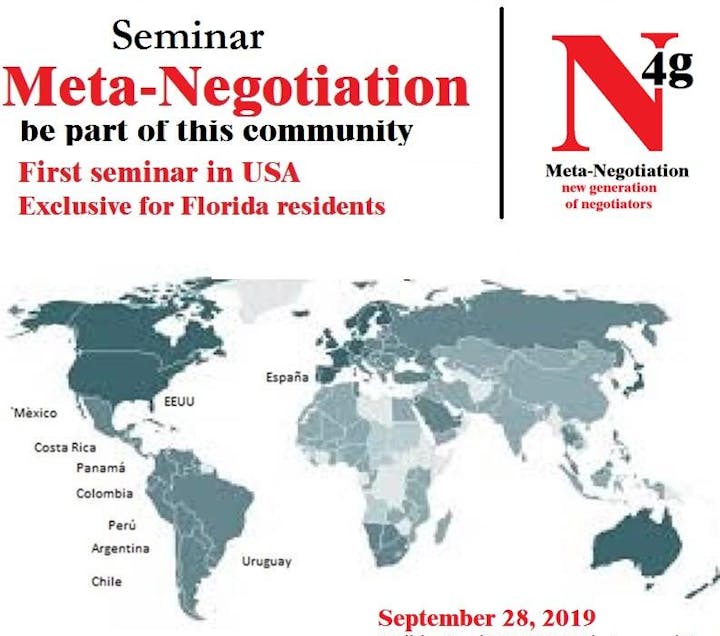 Teacher: Magister Daniel Diaz Diesel.
Director del International Negotiation Institute
Professional Background in Negotiation
45 bankruptcy agreement
800 labor agreements
5 trade unions
8 negotiations under pressure of motin
12 agreements of business families
Meta-Negociación es el último modelo (N4g) de negociación, Es simple, práctico y fácil de aprender.
Aprenderás a hacer una estrategia de negociación que te dará el 98% de probabilidad de ganar.
Se trabaja con una Tabla General, 32 Tarjetas y 10 fichas que te ayudan a pensar correctamente que debes hacer en cada una de las distintas negociaciones que se te presentan en la vida.
Descubrirás una "nueva dimensión en las negociaciones", NUNCA VISTO.
Aprenderás a trabajar en 2 Dimensiones: Dimensión del Poder y la Dimensión del Hacer.
MODELO METANEGOCIACION
• Es un compendio técnico, elaborado científicamente, aplicable a todo tipo de negociación . Conforma un pensamiento filosófico de negociación, superador de los métodos o catálogos sobre técnicas sueltas de negociación, ubicándonos, desde un eje trascendente en una negociación: el PODER o INFLUENCIA de los negociadores.
DESTINADO
• Profesionales Abogados, Contadores, Arquitectos, Ingenieros, Licenciados, Psicologos
• Manager, Directores y/o Propietarios de Empresas
• Responsables de Áreas Estratégicas de Empresas