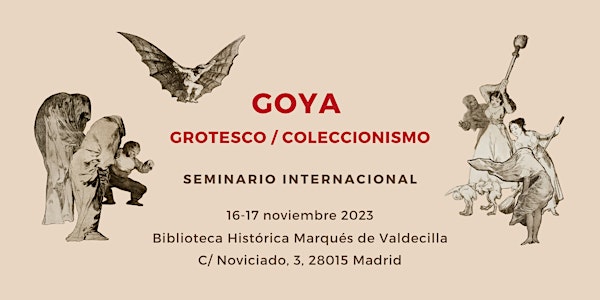 Seminario internacional - Goya: grotesco / coleccionismo (16-17 Nov 2023)
International seminar on Goya focusing on two aspects: the grotesque and collecting. This event will be held in person and via streaming.
Date and time
November 16 · 9am - November 17 · 8pm CET
Location
Biblioteca Histórica Marqués de Valdecilla de la UCM 3 Calle del Noviciado 28015 Madrid Spain
Agenda
10:15 AM - 10:45 AM
Arrival of participants and delivery of name badges
10:45 AM - 11:00 AM
Introduction: organisers, speakers, sponsors, partners.
10:00 AM - 11:00 AM
Goya grotesque: Talk 1 [in Spanish]
12:00 PM - 1:00 PM
Goya grotesque: Talk 2 [in Spanish]
1:00 PM - 2:15 PM
Lunch in Bar La Gloria (for speakers and sponsors)
2:30 PM - 3:30 PM
Goya grotesque: Talk 3 [in French* or English]
---
* Translation or subtitles from French will be available
3:30 PM - 4:30 PM
Goya grotesque: Talk 4 [in French* or English]
---
* Translation or subtitles from French will be available
4:30 PM - 5:00 PM
Coffee break*
---
*No catering allowed in the building. Several cafés available nearby (Sweet Studio, Santagloria).
5:00 PM - 6:00 PM
Goya grotesque: Talk 5 [in English]
6:30 PM - 8:30 PM
Round Table and cocktail at Torre Realia (for speakers and attendees)
Cambridge Alumni Madrid & GA-P
---
Hosted by Gómez-Acebo & Pombo and Cambridge Alumni Madrid. Open to all attendees prior to reservation. The location is Torre Realia at Plaza de Castilla. There is a direct subway ride from Plaza de E...

About this event
Francisco de Goya (1746-1828) es mundialmente admirado por la riqueza y variedad de su obra. Trabajó para la Corte —retrato y pintura decorativa— para la Iglesia —pintura religiosa— así como en obras independientes —cuadros de gabinete, grabados y dibujos de temas grotescos y fantásticos, de crítica social, humor y tragedias humanas. Este seminario internacional estudiará, de la mano de reconocidos académicos españoles, franceses y estadounidenses, la obra del artista desde dos ángulos: lo grotesco y el coleccionismo.
La primera parte de este seminario abordará lo grotesco-fantástico, asunto presente en Goya e inscrito en el contexto de los orígenes del romanticismo. Se examinará el uso de la sátira y de la caricatura como un fin en sí mismo con la experimentación de formas visuales y, por otro lado, como un medio para discutir cuestiones políticas o religiosas evitando la censura.
La segunda parte estará dedicada al coleccionismo de la obra de Goya en diferentes países (Francia, España, EEUU). El estudio de su pintura, dibujo y grabado partió fundamentalmente de los críticos franceses y estimuló su coleccionismo, lo que incrementó su demanda y provocó la proliferación de imitaciones.
Frequently asked questions
Can I attend only one day of the seminar?
Will the seminar be accessible via streaming?
About the organizer
Postdoctoral Fellow "Margarita Salas" 2022-2024 (NextGenerationEU): University of Strasbourg / University Complutense of Madrid. Lecturer and researcher in Goya and 19th-century French art. Former researcher at the Wellington Collection, London / Hampshire (2018-2019). PhD in History of Art, University of Cambridge (Magdalene College), 2015-2018: "The Politics of the Grotesque: The Influence of Goya's 'Caprichos' on Nineteenth-Century French Art" (to be published as a book in late 2023 by CEEH)