Event Information
Refund policy
Contact the organizer to request a refund.
Eventbrite's fee is nonrefundable.
See the light, find inner awareness and peace.
About this event
If you feel lost in life, have gone through some turbulent times or are looking for some clarity, a shamanic healing session could be extremely beneficial. Marolein will help you connect with your guides in the other realms. The process of controlled and conscious breathing will awaken your inner self. You will learn how to channel your energy through your breathing, and ultimately will strengthen yourself by becoming more in touch with who you really are.
🌟 This session is facilitated by an InnerCamp expert, Marjolein Van Ommeren.
Register and get your Zoom link here.
_____________________________
What is this event about?
✓ Healing Breathwork is one of the most powerful self-healing techniques that anyone can practice.
✓ Healing Breathwork is a technique that involves connecting the inhalation with the exhalation in a gentle, relaxed rhythm.
✓ By connecting the breath, the body is flooded with fresh oxygen and prana ("life force") and you can tap into the natural healing system of the body.
✓ You get the opportunity to release stored emotions from the past, detox your body on a deep level, and transform blockages into bliss and natural flow.
Properties and benefits of Healing Breathwork:
♦️ a potent and safe healing modality
♦️ gives access to your authentic self and inner wisdom
♦️ a way to deepen the connection to creativity, joy, and willpower
♦️ has the capacity to transform trapped emotions into acceptance, forgiveness, love
♦️ clearing mental patterns at their root cause
What does a Breathwork Circle look like?
You will be guided into a higher state of consciousness using Breathwork. Any trapped emotions or traumas will rise to the surface, to be expressed or cleared away from the body; leaving you feeling empowered, alive, and cleared from stored up emotional and mental patterns. Imagine, that a simple tool, such as a guided Breathwork can transform insecurity, feelings and thoughts of unworthiness, into security, and self-confidence within! This practice can help you to move beyond fear, contraction, shame, and spontaneously become joyous about your life!
Your Facilitator - Marjolein Van Ommeren
Marjolein is an InnerCamp Healing Breathwork facilitator and a Sacred Womb Awakening & Shamanic Healing Practitioner. She strongly beliefs that we are all healers and her practices are based on this foundation. Her mission is to help people restore balance in their lives by reconnecting them to their inner light and to help them raise their vibration. All her practices are build on the foundation that we have a self healing ability.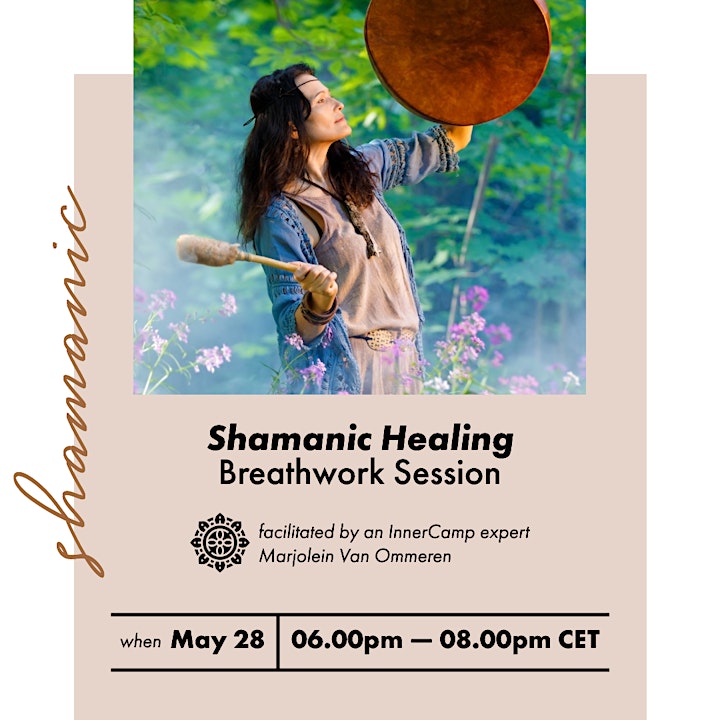 Date and time
Location
Refund policy
Contact the organizer to request a refund.
Eventbrite's fee is nonrefundable.