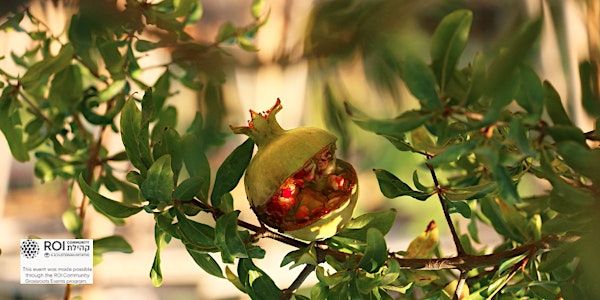 Shmita: Rest as Fertile Ground
Join us for a four day series of workshops and offerings exploring the relations between Judaism, the body and ecology.
Date and time
Thu, 1 Sep 2022 18:30 - Sun, 4 Sep 2022 20:00 CEST
Location
Casa Adret: Research & Development Hub on Jewish Heritage. 6 Carrer de Salomó ben Adret 08002 Barcelona Spain
Refund Policy
Contact the organiser to request a refund.
Eventbrite's fee is nonrefundable.
About this event
In the final month of this cycle of Shmita, we will explore the agricultural and embodied cycles held sacred in this ancient festival and connect the tenet of 'rest' both to the land and to our bodies. Each day, we will go to a different space in the city, and through embodied action and textual sources explore different facets of Shmita. Our wish is to recalibrate our relation not only to our own bodies and its cycles of death and birth, but to the natural world, through exploring how Shmita allows us to be attuned to the cycles of the land and protect the earth's Shabbat in an era of ecological crisis and radical disconnect from plants and soil.
Shmita, translating to 'release', is the seventh year of the seven-year agricultural cycle mandated by the Torah in the Land of Israel. During this year, the land is left to rest and lie fallow, debts are remitted and Hebrew slaves are freed. With its values of ecological, human and economic justice, we centralise this ancient cycle to help us navigate the drought ridden land of the living Jewish diaspora.
We invite either full or partial participation, whatever is possible! Please select 'partial participation' in the ticket option, and email us your availability and payment tier ability.
These four-days of event sits within the framework of this year's European Days of Jewish Culture, the theme of which is "Renewal". This event was made possible through the ROI Community Grassroots Events program and is supported by Mozaika.
Activities:
Day One-Thurday, Sept. 1: On the first day, we will explore out connection between out ancestors and the cycles of shmita. Between all of us, we will create a collective scroll on linen fabric where our footprints will be reflected in the threads and stories embroidered. This events will be housed in Casa Adret, a Jewish center and medieval house in the middle of the Jewish quarter. Timings: 6.30-9.30pm.
Day Two-Friday,Sept. 2: Embodied workshop in one of Barcelona's many urban food growing gardens (huertos urbanos), followed by Kabbalat Shabbat and dinner hosted in the garden and provided by Empatravas. Timings: 6.30-10+pm.
Day Three-Saturday, Sept. 3: We will visit a formerly burnt down forest on the foot of Collserolla national park, which overlooks Barcelona. We will learn about the replanting efforts there, water trees planted during Tu B'Shebat 2021/2022 and be accompanied by meditative songs and Niggun. We'll celebrate together the end of Shabbat making Havdalah and sharing some food and drinking. Timings: 6.30-9.30 + pm. Note: Event is subject to change due to current fire restrictions.
Day Four-Sunday, Sept. 4: We will close the four day offerings with a soil-rooted meditation, reading the Book of Earth with our bodies and participating in a ritual of feldmestn, threading and measuring the circumference of our care. Timings: 6.30-9.30 + pm.
Practical Details:
This English language event is a self-organised event led by a grassroots collective of friends and organisers; it is not a formal programme or retreat, but a collection of offerings.
We have been able to secure a small portion of funding to support some specific meals, activities, and materials. Unfortunately, we do not have the time or financial resources to offer accommodation or support travel costs.
Our participation fee works on a sliding scale, between €35 and €150. We will not exclude anyone who can not afford to pay any amount for the participation.
Please email shmitaofferings@gmail.com if you can not afford any of the ticket options or for any further questions.