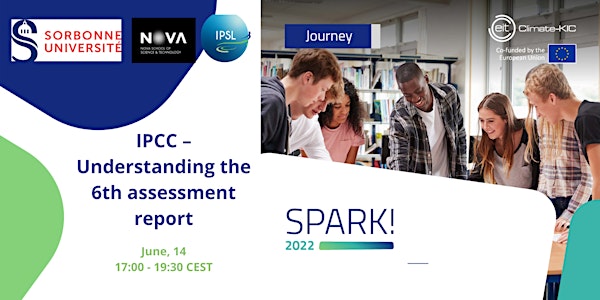 Spark! IPCC – Understanding the 6th assessment report
Come and join EIT Climate-KIC for a Spark! Experience . Thought-provoking lectures and workshops for future-oriented skills development.
About this event
Climate Leadership Journey is an extracurricular challenge-based programme from EIT Climate-KIC that prepares master's students, post-graduates, and young professionals to lead the transformation that society needs.
The programme combines over 10 years of experience from our education programmes supported by the European Institute of Technology (EIT). Climate Leadership Journey includes the year-round elements from the Climate Innovation Leadership pilot (which is built on the foundation of the EIT Label framework) and puts the Journey summer school at its core with its strong methodological approach and pedagogy.
The programme runs on yearly cycles from April to December and it is delivered in a blended format where most of the activities are held online except for the two-week summer school which is residential (locations change every year depending on our delivery partners).
SPARK! EXPERIENCE:
The seminar will be followed by an activity proposed by the Sorbonne University CLJ team (climate scientists) which will be based on the IPCC Interactive Atlas (https://interactive-atlas.ipcc.ch/), a new tool developed for the AR6 IPCC report. The Atlas allows flexible spatial and temporal analyses of much of the observed and projected climate change information. It provides a direct access to the data that build the WG1 assessment, and thus an open gateway to the report.
Description of the activity:
Participants will explore in small groups one scientific and/or societal theme related to climate mitigation and adaptation using the IPCC Interactive Atlas. The main findings will be summarized in a short pitch with a few relevant figures and keywords.
Speaker:
Dr. Sophie Szopa, senior scientist at LSCE/IPSL, and lead author of the IPCC 6th assessment report. She coordinated the work on the IPCC AR6 chapter on short-lived climate drivers (WG1). She will present the methodology and main conclusions of the 6th assessment report, and describe the interconnections between several issues of the ecological transition, in particular air quality and climate.
This Spark will be delivered by our partners Sorbonne Université & Universidade NOVA de Lisboa, Faculty of Science and Technology.