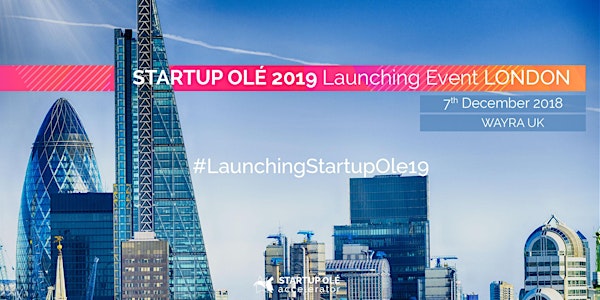 Startup Olé 2019 Launching Event London
When and where
Location
Wayra 20 Air Street London W1B 5AN United Kingdom
Description
Only with personal invitation.
Launching Event London
The event aims to gather the most important entrepreneurial actors (corporates, investors, successful entrepreneurs, media, startups and so forth) announcing the activities and opportunities that Startup Olé 2019 will offer to them...
Launching events are also an excellent opportunity for attendees to start developing synergies and connections that will be further enhanced during the 3-day main conference (Startup Olé 2019).
Details
Date: Friday, 7th December 2018
Location: Wayra UK. 20 Air Street, W1B 5AN London.
AGENDA:
10:00 – 10:30: Arrival and Registration.
10:30 – 10:40: Welcoming words by Gary Stewart, Director of Wayra UK.
10:40 – 10:55: What is Startup Olé and why you should attend next year by Emilio Corchado, CEO of Startup Olé.
10:55 – 11:10: How the Startup Europe Network can be your bridge during Brexit by Isidro Laso, Head of Startup Europe – European Commission.
11:10 – 12:00: Panel: Building a London/UK – Spain bridge.
Topics:
– Connecting ecosystem.
– Challenges and Opportunities in the foreseeable future.
– Spanish/EU tech companies in UK and experiences
– Testimonials of Startup Olé.
Speakers:
– Derek Goodwin, Head of Entrepreneurship and Tech FDI at the Department for International Trade
– Chris Haley, Head of startups & new technology research at Nesta.
– Matt Kuppers, European Institute of Technology.
– Luka Zurlo. Managing Partner, Voluntrees.
– Moderator: Emilio Corchado, CEO Startup Olé.
12:00 – 13:30: Networking lunch
_________________________________________________________________
Visit Startup Olé 2019 website: https://www.startupole.eu/
Policy Privacy: http://startupole.eu/privacy-policy/