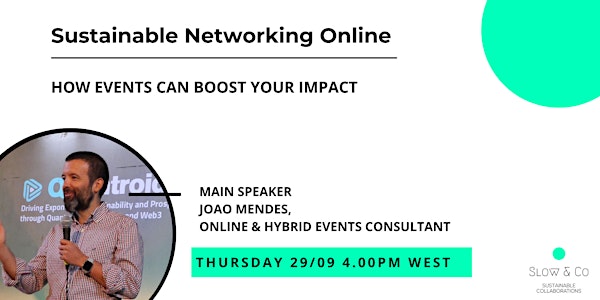 Sustainable Networking: How events can boost your impact.
Looking to create sustainable connections in the business world? Then you should definitely join this networking event!
About this event
Events are the secret weapon of marketing today. The ROI of organising an event online is the best within the promotion tool kit and more and more people are looking at it as such thanks to the rise of online and hybrid events.
When well organised, they can have a significant positive impact. We're not just referring to the economic impact of events (read: profitable events), but about the power they have to do so much more than to generate profits.
The key to making your event successful is to keep all stakeholders happy, from the people attending to the residents in the local area, from your suppliers to your collaborators. And to make sure your event leaves the best possible impact, we first and foremost need to reframe the conversation so people don't just look at the negative impact of events.
We couldn't be more excited to have J Mendes join us for our next Sustainable Networking session! J envisions a society without borders where we don't just live, but thrive to improve ourselves, our society and our planet, and is working towards that goal by consulting and organising impactful events! We'll have the pleasure of finding out firsthand how events can really boost our impact!
So, are you ready to change the world, one event at a time? Then make sure you sign up for our next Sustainable Networking session!
Slow & Co will be hosting this online event and this is a short outline:
16:00 – 16.10 Welcome
16.10 – 16:20 Presentation main speaker
16.20 – 16:30 Short Q&A
16:30 – 16:50 Networking in Breakout Rooms
16:50 – 17:00 Closing