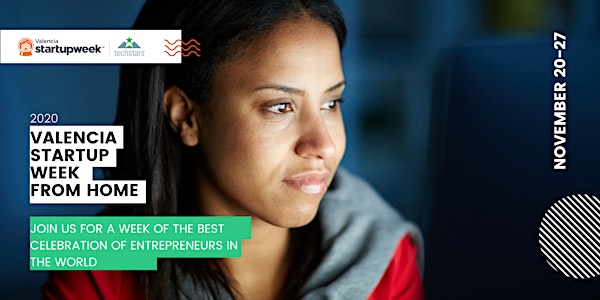 Techstars Valencia Startup Week - Opening
Valencia Startup Week is more than a conference, is the best celebration of entrepreneurs and innovators in the World. #VLCSW2020
About this event
Techstars Startup Week Valencia is a celebration of innovation and startup ecosystem, with six days of events free of charge.
Our mission is to develop and support The Valencia entrepreneurial community and connecting them with the Global Startup Ecosystem. The best way to do this is to bring founders, entrepreneurs, corporations, and investors together in a way that they can connect, share, and bond.
We're super excited about #VLCSW2020 virtual, and we hope you'll join us. – there's no excuse not to this time! We wish you a healthy and safe stay and look forward to seeing you online on November 20 - 27 for #VLCSW2020.
For more information and agenda, please visit the event website: www.vlcstartupweek.co
SCHEDULE Opening remarks
Monday 23
15:30 Welcome to Techstars Valencia Startup Week virtual
15:35 Institucional opening [Spanish]
Pilar Bernabé García, Concejala Delegada de Emprendimiento e Innovación Económica - Ayuntamiento de Valencia
15:40 Building a Startup During the "Work From Home" Revolution
16:10 The evolution of (coastal) startup ecosystems
Dr. Yossi Vardi, Chairman 4YFN
Pere Duran, Director 4YFN
Noaa Barak, 4YFN Strategy Manager at GSMA
16:40 Building startup communities that thrive!
Ian Hathaway, analyst, strategic advisor, writer, entrepreneur, and Senior Director (Product Lead) at Techstars
Jose Iglesias, Senior Director of Community, Techstars
17:10 Closing