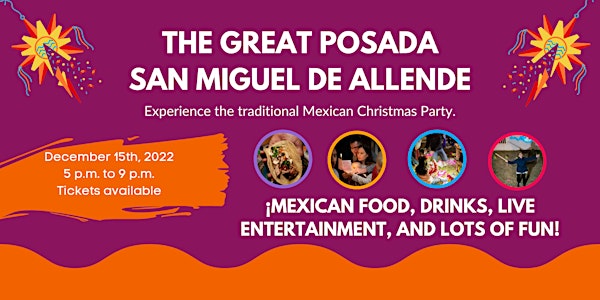 The Great Posada San Miguel de Allende
Experience The Great Posada San Miguel de Allende, with food, drinks, live entertainment, and lots of fun for the hole family.
When and where
Location
La Casa Rosa Carmen Viñals de Garay Col. La Esperanza San Miguel de Allende, Guanajuato, 37896 Mexico
Refund Policy
Refunds up to 7 days before event
Eventbrite's fee is nonrefundable.
About this event
The Great Posada San Miguel de Allende
December 15th, 2022; 5-9 pm
Enjoy the best traditional Mexican Christmas Party called "POSADA", this December 15th, 2022, with food, drinks, live entertainment, and lots of fun in this event which also supports young people from Sororas y Rebeldes SMA and Coyote Urbano Collectives by donating all net proceeds to their organizations.
Posadas are Mexican parties that are celebrated between December 16 and 24, this tradition allows us to spend time with family, friends, neighbors and friends we haven't met yet. The evening is full of fun, Mexican food, colorful piñatas, live entertainment, music, drinks, and hot fruit ponche. These parties are usually organized at neighborhoods (colonias), by families and friends, but this December 15th, 2022, you can be part and enjoy this festivity at our Great Posada San Miguel de Allende, where you will learn more about the Mexican Posadas, including:
Food, and drinks. You will taste traditional Mexican tacos; a variety of stews of meat, vegetables, rice, and beans, accompanied by tortillas, guacamole, and sauces. Unlimited traditional fresh fruit water (agua fresca), welcome drink and cash bar (only adults).
Live Entertainment. You will listen to Christmas carols, performed in Spanish by the pleasent voice of Daniel de Alba, a young singer member of the Coyote Urbano Collective, Christmas carols which you will surely recognize easily and will integrate you into the Christmas atmosphere for the evening.
The Pastorela. Pastorelas are the most anticipated theatrical performances of the season, which we can only enjoy during the Posadas. A Pastorea is a theatrical representation originated to represent the challenges that people must overcome to arrive at the location of the birth of baby Jesus, it's a comedy in which mexicans also incorporate social and political satire.
Asking for "Posada". The "Posada" takes its name from the representation of Joseph and Mary (José and María) pilgrimage and looking for shelter to spend the night. This representation is carried out by the friends, family and neighbors singing the traditional songs between two groups of people, those who are inside a house and those who are outside asking for "posada" (shelter), and you will participate in it in this party.
Breaking the Piñata. A Mexican "Posada" cannot miss breaking piñatas, an activity so fun for both children and adults in which even the shyest person loves to participate.
"Mi Tierra Linda" (My Beautiful Land) performance. To end the night, Coyote Urbano Collective will perform their original song "Mi Tierra Linda" a hymn to San Miguel de Allende, its people, culture, and traditions, which integrates rap, rock, and ballad rhythms, a love letter that the boys wrote to honor the heart of Mexico, the land that saw them born, grow up and which welcomes everyone who visit it or comes to settle.
During this event, you will have the opportunity to learn about the work that Sororas y Rebeldes SMA and Coyote Urbano Collectives carry out to benefitthe youth in San Miguel:
Sororas y Rebeldes SMA, the most relevant feminist collective in San Miguel de Allende, which has organized massive feminist marches in the city, but also carries out activities such as the Reading Club for Women, a safe space for reflection among women; the 1st feminist story contest in which women and girls wrote about the stories of the women who inspire them and were awarded, recently the offering to thefemicide victims which caused a lot of impact on the people who were able to see it.
Coyote Urbano Collective seeks to contribute to enhancement of the sense of community belonging, solidarity, and cohesion, and promote local talent from vulnerable areas through culture, art, and music to generate a positive community by promoting creativity and talent in young people.
The place where the Posada will happen is Rancho Tres Hermanos, a beautiful garden for private events, just 15 minutes from San Miguel de Allende downtown, which has all the necessary amenities and facilities to hold social events in a country setting. It is the perfect break from the busy city life, with fruit trees, nature, and open spaces.
Don't wait any longer and buy your tickets for this ideal holiday party for the whole family, organized by enthusiasts native Mexicans who wants to share with you this joyful tradition.
¡Feliz Navidad!