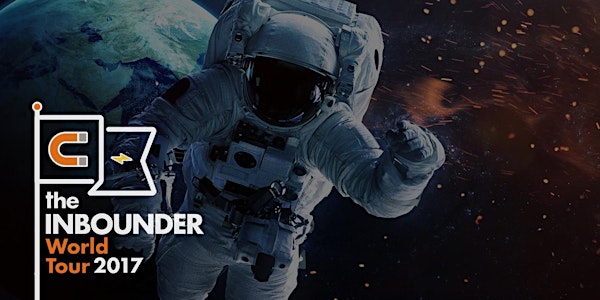 The Inbounder 2017 - London - 2nd May
When and where
Location
Congress Centre London TUC, 28 Great Russell St, Fitzrovia, London WC1B 3LS, Reino Unido Londres United Kingdom
Description
The Inbounder will take place in London on Tuesday May 2, 2017 at 9:00 a.m.
Nichola Stott, Jono Alderson or Kirsrty Hulse are only some of the great experts, who will share their actionable knowledge. An 8 hours day event about Digital Marketing and great networking opportunity.
Agenda:
9:00 am Jon Myers of Deepcrawl, MC
9:15 am Tom Anthony "3 New Techniques for the Modern Age SEO"
SEO is at an interesting point. The model of web-based Google searches is still the dominant paradigm, but is undergoing dramatic changes as new data sources and maturing Machine Learning methods change how it works.
At the same time Apps, intelligent personal assistants, and APIs are serving an increasing percentage of search queries.
This means we need to diversify away from just web searches, learn to deal with machine learning, and stop relying on best practices which don't apply to us or are already old news.
Tom will talk about three emerging techniques in SEO which cater to these problems: SEO split-testing, fighting Machine Learning with Machine Learning, and moving to a hub and spoke API-based approach.
10am Kelvin Newman "Why Podcasting Is the Missing Piece In Your Inbound Strategy & How to Excel in Audio Content"
Everybody has a content marketing strategy, most include blog posts, plenty include videos, and some have interactives, but too few have podcasts.
Kelvin will tell you why that's bonkers and how to start producing hugely cost effective audio content that really delivers business changing results.
10:30 am Olga Andrienko "User Psychology and Social Media: Triggers That Drive Conversions"
Olga session will range from basic but often misinterpreted principles to the latest trends in Social Media Optimization like:
Image A/B testing: colours, fonts and text;
Human-to-human interaction and ways to build a community with social media;
Templates, conversation funnel examples and tools to help marketers customise their messages.
11am Coffee break
11:30 am Hannah Smith "Going Down the Rabbit Hole - Chaos, Curiosity & Creativity"
"Be more creative" they said. But how the hell do you do that?
For the past six years Hannah's been tasked with coming up with creative ideas - ideas which people share and journalists write about.
In her session Hannah will share heartaches, happy accidents, highs, and the things she's learned about 'being more creative' along the way.
12pm Nichola Stott "10 Things We'Re Checking For a Mobile First Index"
With news that we'll soon have a Google index that assesses a sites mobile experience first, to determine algorithmic performance, we outline the top checks and reviews we're doing with our clients, to make sure we're future proof.
12:30 pm Lunch break
2pm Jono Alderson "Accelerated Mobile - Beyond AMP!"
Performance is everything, buy many people only do the basics. AMP is just the beginning. Want to go further, faster?
Brace yourself for a whirlwind of speed techniques and opportunities - from HTTP2 to PWAs and beyond!
2:45 pm Kirsrty Hulse "Content Marketing: How To Work Less and Win More"
For The Inbounder London, Kirsty will tell us how to avoid the risk, so common in content marketing, of investing a lot and receiving very little in return.
Kirsty will discuss how to set objectives and go through tactics that allow us to invest less, and yield more, from our content efforts.
3:15 pm Russell McAthy "Using Machine Learning To Forecast Future Sales, the SEO Way!"
As an SEO its been difficult to communicate the value that SEO contributes to revenue as its goal as a channel is not always to convert users.
PPC, Affiliates and direct get all the plaudits and ulitmently often the lions share of budget leaving SEO to pick up the scraps. In this session Russell will show you the true value that SEO has using data from CUBED - his marketing attribution platform.
This will show you ways to talk differently to stakeholders allowing you to clearing communicate the value of SEO now - and then using machine learning how we are starting to forecast the future!
4pm Coffee Break
4:30 pm Hannah Thorpe "Content Marketing for Watching Paint Dry"
What is one of the most recurring questions people have when it comes to content marketing?
Yes, you guessed well:
How can I can create great content for boring niches?
Not every client is CocaCola or Lego. No, probably the 80% of clients want to promote exciting products like concrete or plaster laminates. Sexy, aren't they?
Hannah will talk about creating content for boring industries, sharing the struggles she lived with clients in the B2B space and how she was able to design a creative content strategy.
5pm Gianluca Fiorelli "The Alphabet of Google and What We Have to Expect Next in Search"
Playing with the fact that Google is now part of the holding company called Alphabet, I will wear the professor's hat and review the Google alphabet.
From the A of Alphabet to the Z of Zurich, I will present all the latest news about Google, and many of them barely known, and how we can take advantage of it.
5:45 pm Jon Myers, Closing
at 6pm Closing party sponsored by SEMrush.*
Once you get The Inbounder ticket confirm your asistence here
The password is theinbounder
The Inbounder London is organized and sponsored by: