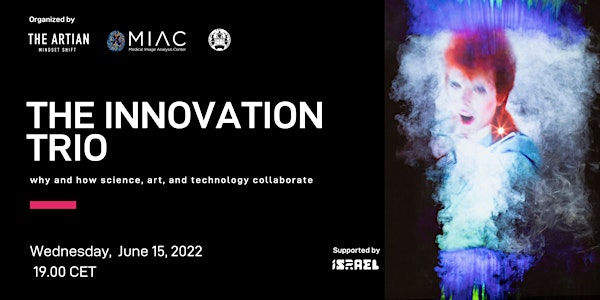 The Innovation Trio | Art, Science, and Technology
Why and how art can collaborate with science, technology, and entrepreneurship to drive innovation
When and where
Location
Marktgasse 8 8 Marktgasse 4051 Basel Switzerland
About this event
About
Artists, entrepreneurs, and scientists are driven by exploration, imagination, and questions. Whether in art, technology, and science, the thinking process of defying the norms and reality is required.
In this event, speakers from the world of art, science, and entrepreneurship will present questions about technology, collaborations, and intersections of disciplines. Why do artists establish an AI lab? How can science benefit from working with artists? And what are potential avenues to foster transdisciplinary collaborations? These are some of the questions that will be discussed.
Schedule:
19:15 - The BatLab - The Artificial intelligence Art Lab
Speakers: Artists and BatLab co-founders Nir Harel & Miri Segal
19:45 - Panel: New sources for innovation and inspiration - Why art, science, and technology should collaborate
Speakers:
Nir Harel & Miri Segal, BatLab co-founders | Jerusalem, Israel
Dr. med. Jens Wuerfel, CEO, Medical Image Analysis Center (MIAC AG) | Basel, Switzerland
Nir Hindi, founder, The Artian | Madrid, Spain.
About The Speakers:
Dr. Miri Segal
Dr. Segal is a New Media Artist and a senior lecturer at the Fine Arts department in Bezalel.
Segal holds a Ph.D. in mathematics from the Hebrew University in Jerusalem.
Segal had solo exhibitions at Moma PS1(New York), Lisson Gallery (London), Kamel Mennour Gallery (Paris), Tel Aviv Museum, Dvir Gallery (Tel Aviv), and Herzliya Museum of Contemporary Art (Herzliya), among others. Furthermore, she has participated in group exhibitions and screenings at Tate Museum (London), Palais de Tokyo (Paris), Pompidou Center (Paris), Magasin III Stockholm, Kunstmuseum Luzern (Luzern), Tokyo wonder site (Tokyo), and more. I
Nir Harel
Nir Harel is an artist, programmer, and lecturer at the Fine Arts department in Bezalel.
Harel is a graduate of the MFA program at the Bezalel Academy of Art and Design, where he also received his BFA, during which he was an exchange student at The New School (NYC) and The Slade (London).
His work has been showcased in solo shows and group exhibitions at venues such as Bruch & Dallas, Cologne, KIT, Dusseldorf, MoBY - Museums of Bat Yam, and the Tel Aviv Museum, and he is the recipient of the MoBY Yaacov Epstein sculpture award.
Dr. Jens Wüerfel
Dr. med. Jens Wuerfel, MD/FMH received his medical training at the Universities in Heidelberg, Luebeck, London, Sydney, Cape Town, and Chicago. He specialized in Clinical Neurology with a focus on Neuroimmunology at the Charité University Medicine Berlin, Germany, and added a specialization in Radiology, at University Hospital Schleswig-Holstein, Germany, and in Neuroradiology at the University Medicine Goettingen, Germany.
He authored and co-authored >200 peer-reviewed publications and book chapters, covering preclinical and clinical studies as well as the development of advanced acquisition modalities like MRE or OCT, and their translation into trials as well as clinical routine settings.
Since 2015 he has served as CEO of the Medical Image Analysis Center (MIAC AG), Basel, Switzerland.
Nir Hindi
Nir Hindi is an entrepreneur and lecturer who founded The Artian, a transdisciplinary consulting company that applies artistic mentality, methods, and practices in technology and innovation spheres.
He has worked with renowned companies such as Google and BCG while focusing on helping organizations develop creative environments, build innovation capabilities, and position art as a source for technological innovation.
As a leading specialist in the field, he is part of Cotec's 100 experts to promote innovation in Spain, mentors and judges at creative entrepreneurship programs at Harvard and MIT, is a member of the Cultural Leaders Network at the World Economic Forum, and an adjunct professor at IE Business School. Further, he hosts the podcast "Shaping Business Minds Through Art."