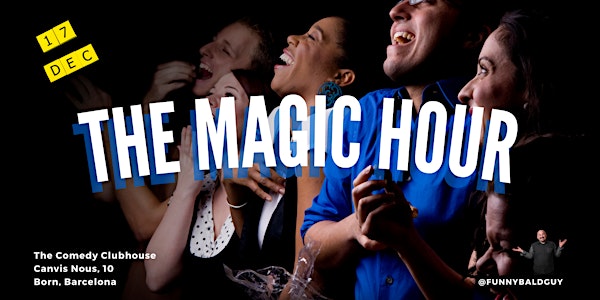 The Magic Hour - Barcelona Magicians & Comedy (in English) - Fun Night
If you like magic or comedy, you're gonna love this comedy magic show featuring Barcelona's funniest and most talented magicians!!
When and where
Location
The Comedy Clubhouse 10 Carrer dels Canvis Nous 08003 Barcelona Spain
Refund Policy
Contact the organizer to request a refund.
About this event
MONTHLY SHOWS THIS FALL
YES! A Comedy & Magic Show in English!
Each show is a completely different lineup filled with comedy and magic... including plenty of laughs and unexplainable magical entertainment. Our shows are family friendly, dog friendly, and fun for all ages. The humor and magic is designed for adults - but kids 10 and up will have a good time (and adults won't feel like it's a show for kids).
The show will be performed in English - although, magic and visual comedy truly transcends language. So, even if your English isn't perfect, you're guaranteed to have a good time.
Saturday Night, December 17th
9:00 PM (Doors Open @ 8:30)
Limited Seating: Only 60 tickets available to create perfect ambiance
Pay What You Want** (€10 Suggested, Please bring Cash)
*This will the last "Pay What You Want" show. (Next year will be ticketed.)

This show will be a complete blend of comedy and magic - don't miss it!
Always Hosted by: "FunnyBaldGuy", Harris Fellman. Harris has a fun way of blending comedy with magic that manages to entertain people of all ages. Harris' "friendly dad" vibe will make you feel comfortable as he shares some of the most fun performers you've ever met. Whatever else he may have up his sleeve, we promise you'll laugh, be amazed, and hopefully both.
We always fill the show with a variety of performers - all performing magic with comedy ... comedy with magic ... or just awesome magic. (Read below for more info on the performers.)
All performers will be performing up close and personal magic on a small stage only a meter or two away from your seat. So, you will experience the impossible, laugh, and have a great time.
You'll experience 3 mini-shows from 3 performers who will be breaking out their most entertaining routines for you to enjoy.
For the month of November - we have veteran Magic Hour Magician, Bastien Bonilla, as well as local renaissance man Edwin Skevee, aperforming a full set for the first time at The Magic Hour, the Amazing Sieko, from SiekoMagic.com
Each show is different, past shows have featured:
Sieko Magic carefully crafts his magic with passion and purpose so every magic trick brings a smile to brighten up your day. Unique moments are created for you to savor and enjoy. Sieko performed for many years in South Africa prior to establishing residencies in the United Kingdom. Now living in Barcelona, we also have the opportunity to get a taste of his very special magic.
Bastien Bonilla loves card magic. I mean, he really LOVES card magic. His beautiful girlfriend comes to all of his shows because she wanted to make sure that Bastien wasn't cheating on her with a deck of cards. (Spoiler alert: he was.) Even still, we can't wait to see what Bastien can do with cards this time!!
Edwin Skevee originally from Belgium, Edwin's sweet personality and skillful magic routines will have you mesmerized every second he's on stage. Whether he's sharing with you a classic of magic or something brand new, you'll love it.
Others who can surprise us at any time:
Remy Marvely is an incredibly funny magician who performs on both stage an TV in English, Spanish, and French. (Only English for this show, of course.) His offbeat show, Nouvelles Vies has been performed in Barcelona, Madrid, and the best parts of France. He's been known to mix his passion of wine, magic, and comedy with originality and fun.
Magic Marc, Barcelona Born & Based, normally performs in Catalan or Spanish... however, when he performs on our stage in English, his charming personality will draw you in nearly as much as the magic and comedy he performs.
Above are the most likely magicians you'll see performing, however others that have graced our stage include Canadian Jonah Babins, Barcelona based Tyler Haze, Barcelona born Roker who's become quite the Corporate Magic Performer all around Spain.
Because of space restrictions, there are only 60 seats available. Please reserve your spot by buying a ticket and be ready to have fun!!!