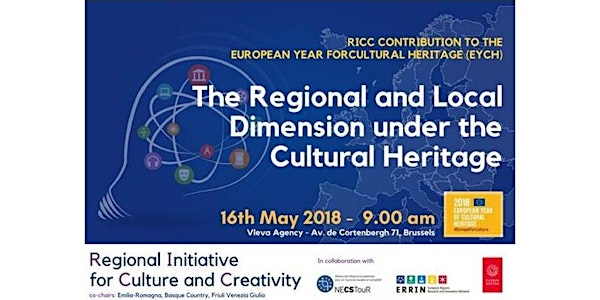 THE REGIONAL AND LOCAL DIMENSION UNDER THE CULTURAL HERITAGE
Location
Vleva Agency
Avenue de Cortenbergh 71
1000 Brussels
Belgium
Description
Background

2018 is the European Year of Cultural Heritage. The initiative, based on the concept "our heritage: where the past meets the future", aims at encouraging people to discover and engage with Europe's cultural heritage diversity across Europe at EU, national, regional and local level. Following a long process of consultation, in December 2017, the EYCH has been officially launched at the European Cultural Forum in Milan (Italy).
The European Year for Cultural Heritage aims thus at promoting Europe's cultural heritage as a common resource. It contributes to raise awareness on history and shared values and to strengthen a sense of belonging to a common European space. Cultural Heritage is also a driving force for the cultural and creative sectors. It plays an important role in creating and enhancing Europe's social inclusion, regional cooperation and development, innovation, competitiveness and new skills.
Different stakeholders are working together with the European Institutions and international key actors. Regions are key players in achieving the EYCH objectives because they are closer to citizens. Regions can be proactive in the promotion of cultural heritage, acting as a catalyst for creativity, competitiveness, innovation, new skills for young generation, inclusion, sustainability and protection. Finally, regions can also strengthen cultural heritage as a pivotal element of international relations.
This event is organized by RICC (Regional Initiative for culture and creativity) in collaboration with the EU institutions and other EU networks. Driven by regional Brussels delegations, RICC provides regional governments with a common platform having the main objectives to advocate on cultural and creative regional policies, to participate in EU funding programmes and to work under the "S3" guidance. RICC is co-chaired by Basque Country, Friuli Venezia Giulia and Emilia-Romagna.
Objective
The conference aims at highlighting the role of EU regions in promoting culture and cultural heritage. In particular, through this event the RICC regions aim at:
giving a contribution to the four objectives identified for the legacy of the EYCH: engagement, sustainability, protection, innovation and skills;

inviting other European networks to work together with the RICC regions in order to plan common actions to put in place, going beyond the EYCH.
The event intends to promote the discussion on the cultural agenda at EU level also in view of the forthcoming programming period.
---
PROGRAMME
09.15 – 09.30 Opening and welcome
Welcome and brief introduction on the RICC network: Friuli Venezia Giulia Autonomous Region: Raffaella Viviani, Coordinator of the Brussels Ofiice
09:30 – 10:30 Engagement:
This session will highlight how culture and cultural heritage can be relevant tools to promote the active participation of young people in society and the social inclusion of disadvantaged groups, including persons with disabilities, migrants and refugees.
Introduction by the European Commission – DG EAC – Unit D1 – Cultural policy - Maciej Hofman
Emilia Romagna Region - Gianni Cottafavi, Head of Department "Culture and Youth", DG Knowledge Economy, Labour and Enterprise, "From accessibility to enjoyment: inclusion projects in CH and performing arts"

Barcelona Provincial Council - Lluís Rius Font - Division of Cultural Services, CH Office: "The Tactile Gaze, museums with the five senses".

Region Skåne - Caisa Lindfors, CH Developer at Department for Culture: "Cultural heritage institutions and integration of migrants"

Tuscany Region - Annalisa Giachi, Research Coordinator - Network of Cities for Culture Project Officer: "LUBEC – International Forum for the inclusive participation of local communities to the promotion of Cultural Heritage"
Moderator: Piet Jaspaer, Europa Nostra Vice-President
10:30 – 11:30 Sustainability:
Europe is a key cultural tourism destination thanks to an incomparable cultural heritage. It is estimated that cultural tourism accounts for 40% of all European tourism; 4 out of 10 tourists choose their destination based on its cultural offering. How can Regions and EU promote a balanced approach between the needs to boost growth on one side, and the preservation of artifacts, historical sites, and local traditions on the other.
Introduction by the European Commission DG EAC – Anne Grady: EU policies on cultural and sustainable tourism.
Veneto Region - Fausta Bressani, Director at Culture Department: "Public-private partnerships in Veneto Region for preserving and enhancing the tangible and intangible cultural heritage"

Ile de France Region- Sophie de Moustier: : "Promoting regional cultural heritage : a label for unprotected heritage, an asset for territories"

Lombardy Region - Elisa Storace Museimpresa – Corporate Archives and Museums Italian Association: "Cultural heritage and industrial tourism in Lombardy: Kartell Museo's experience"

Canary Island – Christian Perazzone : "Canary Island, an open gate to tourism, cultural heritage and sustainability"
Moderator: Sandra de Puig - NECSTOUR network
11:30 – 12:30 Innovation and protection:
Cultural Heritage is linked with protection and innovation. Protection helps developing quality standards for interventions on CH. Innovation, through research and specialization on new skills, helps to articulate a new approach to Cultural Heritage, strengthen regional development, helps to link communities as well as promote cultural diplomacy.
Introduction by the European Commission – DG Research & Innovation - B6 – Open and Inclusive Societies - Zoltan Krasznai
Autonomous Region Friuli Venezia Giulia - Anna Del Bianco Director at Department for culture, solidarity and sport : "regional innovative strategies to promote cultural heritage"

Basque Country - Borja de Aguinagalde Olaizola, Director of the Basque Archive and Documentary Heritage Center, "Basque Country Heritage Archive: from regional to global, through innovation and linking to the european heritage and history"

Castilla la Mancha -Luis Rubio Bremard, Brussels Office- a best practice focused on the protection of archeological sites"

Sicily Region- Arch. Daniela Guarneri, Founder & CEO of the REVIVE srl start-up
Moderator: Pirita Lindholm – Director of ERRIN network

12:30 – 13:00 Debate


13:00 Closing Speech:
MEP Silvia COSTA – European Parliament Member of the Culture Committee
Working language: English ( without interpretation facilities)