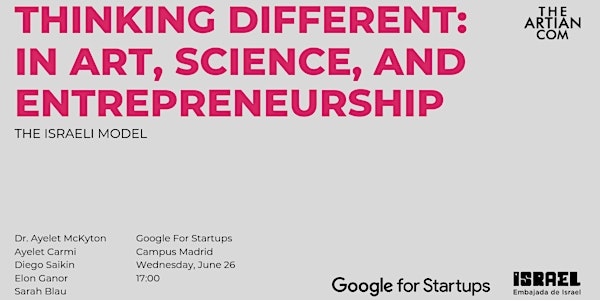 THINKING DIFFERENT: IN ART, SCIENCE & ENTREPRENEURSHIP | THE ISRAELI MODEL
When and where
Location
Google For Startups Campus Auditorium Calle Manzanares 1 28005 Madrid Spain
Description
The Artian is back on Google For Startup Madrid Campus with a special edition of our Art & Tech event series. This time we will host five speakers, all working in fields that require a unique way of thinking.
Innovation, in every industry, requires original thinking, ability to challenge the status-quo, courage, and creativity.
Artists, entrepreneurs, and scientists, are people that are driven by challenging the way we think, behave and perceive the world. The thinking process of defying the norms and the reality is required, whether in art, business or technology, and science.
Supported by the Israeli Embassy in Spain this event's speakers from the world of art, science, and entrepreneurship will present real study cases based on their experience for thinking different, they will share their ideas, and thoughts on the process that allows them to think differently in their work.
The conference will be held in English; besides the first talk.
Registration is Required.
Schedule:
16:30 - Registration
16:50 - Opening Remarks
Daniel Kutner, Ambassador of Israel to Spain
17:00 - Thinking Different: The First Private Mission to the Moon
Diego Saikin, SpaceIL (will be held in Spanish)
17:50 - Thinking Different: Breaking Barrier in Art
Conversation: Sarah Blau and Nir Hindi
18:30 - Break
18:45 - Thinking Different: Entrepreneurship and Art
Elon Ganor
19:30 - Thinking Different: Where Art and Brain Sciences Intersect*
Speakers: Ayelet Carmi and Dr. Ayelet McKyton
20:10 - Final Remarks
20:20 - Networking
About the Speakers:
Diego Saikin - Diego Saikin - an Argentinian-Israeli engineer with broad multidisciplinary experience. He got his B.Sc. in Electrical and Computer Engineering from the Ben-Gurion University.
Saikin is a member of SpaceIL, the non-profit organization, responsible for launching "Beresheet", the first private lunar mission in history. His first role was in the AOCS team but later moved to the role of Simulation Software Engineer.
Sarah Blau, author, writer, and journalist, won the prize for creation for writers and poets (2015). Blau's approach to the literary world repeatedly challenges the concept of literary creation. At the basis of her literary works are Jewish myths that she re-examines. Her last book, "The Others," which deals with the subject of non-parenthood, once again presents Blau's ability to stimulate thinking about familiar topics. Throughout her artistic career, she chooses to challenge the status quo, introducing a new angle to accepted themes, or as the judges of the creative prize wrote, "Blau is an original artist, imaginative, daring and rich in style. Her connection to the Jewish world is profound, yet, she has a nonconformist expression that creates a rich world that is connected to tradition and to the emotional life and yet bursts out of its boundaries. "
Elon Ganor is an Israeli entrepreneur and artist known mainly for his role as one of the world's first VoIP pioneers. He served as Chairman and CEO of VocalTec Ltd (Nasdaq CALL), the company behind the creation of "Internet Phone," the world's first commercial software product that enabled voice communication over the internet, known initially as "Internet Telephony" and later as VoIP. Ganor led several companies for business success and IPO's on Nasdaq. He is an art photographer whose works have been exhibited in various places, including the Israel Museum in Jerusalem and included in numerous art collections, including the Israel Museum, the Shpilman Institute of Photography, and other private collections.
Ganor was a member of the Board of Directors of the Ben-Gurion University of the Negev; He sat on the Board of Trustees, the Academic College Tel Aviv-Jaffa, where he taught workshops for business administration students on "Creativity in Business and Art."
Dr. Ayelet McKyton is a neuroscientist researching the visual system in the human brain. Since her Ph.D., concerning the healthy visual brain, McKyton dedicates her time to research various diseases involving visual deficits. In Ethiopia, McKyton researches the limits of visual restoration in congenital blind children who are being treated in late childhood. In Israel, she uses novel methods of analyzing MRI data to reveal the basis of neuro-degenerative diseases concerning visual loss.
Ayelet Carmi is a painter and installation artist. Graduated from Bezalel Academy of Art and Design, winner of the Prize for the Encouragement of Creativity and Honorary Award and winner of the Culture and Art Minister Prize for 2017. Carmi presented solo exhibitions at the Ein Harod Museum of Art at Gallery 39 and at the Kibbutz Gallery in Tel Aviv Jerusalem and selected art spaces throughout the country. She has participated in many group exhibitions at leading institutions including Tel Aviv Museum, Ramat Gan Museum, Alexander Ochs Gallery in Berlin and more. "The work of Ayelet Carmi is highly interdisciplinary and has an impressive aesthetic appearance, quoting scientific research, such as that of Leonardo da Vinci in the field of aviation and research on familiar and foreign machine parts", as was written by the judges.
*McKyton and Carmi collaborate in a special exhibition presenting the works of scientists and artists.
From the exhibition: What does a blind child see when opening his eyes for the first time? What kind of a world is revealed, and how is it decoded? Dr. Ayelet McKyton's research describes vision as a process that takes place not through the eyes, but through the brain. Dr. McKyton studies the perception of vision among blind children who underwent cataract removal surgery. When the children began to see, they succeeded in understanding two-dimensional figures and colors but were unable to decode three-dimensional forms. Ayelet Carmi seeks to point out the tension between seeing and decoding what one sees. Carmi paints colorful two-dimensional images on transparent sheets of Mylar to make up three-dimensional forms, similar to the way an untrained brain reads the three-dimensional world. The brain, states the scientist, must carry out numerous stages of decoding in order to be able to understand and operate in the seen world, but this decoding is not self-evident for everyone.