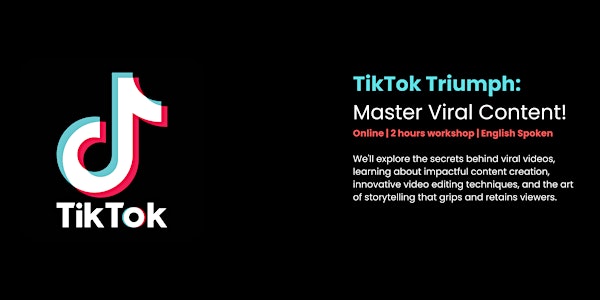 TikTok Course
Join TikTok Triumph: Master Viral Content! Led by CGO Stephanie Steggehuis, transform your TikTok journey from guesswork to strategy.
By Just Know How Marketing Boutique
Date and time
Thursday, June 15 · 7 - 9am PDT
About this event
Immerse yourself in the world of TikTok with my intensive 2-hour online workshop, 'TikTok Triumph: Mastering Viral Content Creation'. As your host, Stephanie Steggehuis, a seasoned Chief Growth Officer with a portfolio of successful TikTok influencers, I'll be sharing my insights and strategies to help you excel in the dynamic landscape of TikTok.
Regardless of your TikTok experience, this workshop is designed to enhance your content creation skills and understand the mechanics behind viral success. I'll unravel the intricacies of the TikTok algorithm, shedding light on how it works and how you can optimise your content to reach the widest possible audience.
We'll explore the secrets behind viral videos, learning about impactful content creation, innovative video editing techniques, and the art of storytelling that grips and retains viewers.
But the journey doesn't end at producing appealing videos; I'll guide you through the crucial process of identifying and understanding your target group. Together, we'll learn how to tailor your content to resonate with your audience, driving higher engagement and fostering follower growth.
This workshop is an opportunity for budding influencers, businesses considering TikTok as a marketing avenue, or anyone passionate about the platform to gain a thorough understanding of TikTok's ecosystem.
Join me for a transformative learning experience that takes your TikTok journey from guesswork to a strategic and successful venture. Let's embark on this wave of creativity together and light up the TikTok stage!
Disclaimer:
Please note that participation in the 'TikTok Triumph: Mastering Viral Content Creation' workshop does not guarantee that your content will go viral on TikTok. The virality of content on any social media platform, including TikTok, is influenced by a variety of factors. These include, but are not limited to, the relevance and quality of the content, understanding and targeting the appropriate audience, and the timing of the posts.
While this workshop is designed to provide you with comprehensive strategies and insights to enhance your TikTok content and understand the platform's algorithm, the successful implementation of these strategies and your content's ultimate performance are dependent on individual efforts and external factors. The workshop should be seen as a tool to improve your understanding and performance on TikTok, rather than a guaranteed formula for viral success.