Toastmasters Sevilla in English - Improving your public speaking skills
Virtual session Toastmasters Seville club's
About this event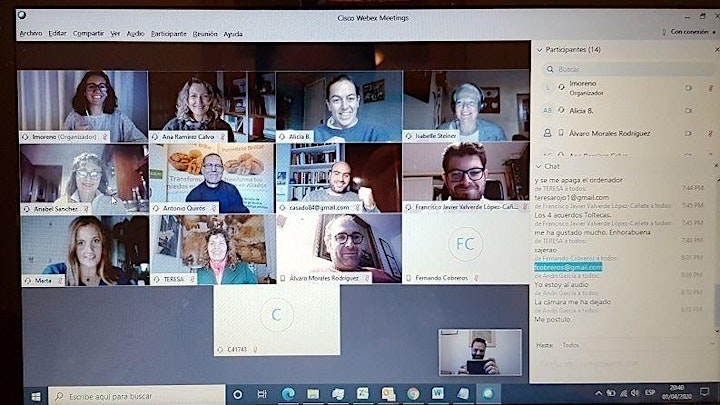 A videoconference where you can exercise your communication and leadership skills in a fun and relaxed way. If you want to improve your public speaking skills in Seville, you can attend club meetings free as a guest.
Current restrictions for Covid-19, the meeting will be in videoconference using the Zoom application. You can find zoom information access in our website: http://www.toastmasterssevilla.com/eventos/
You will be always welcome!
Organizer of Toastmasters Sevilla in English - Improving your public speaking skills
Si quieres mejorar tus habilidades para hablar en público en Sevilla, puedes acudir de forma libre y gratuita a las reuniones del club como invitado. Busca la próxima sesión en nuestro calendario.
¿Qué hacemos?

Nos definimos como el primer "gimnasio de oratoria" de Sevilla, usando para ello tanto el idioma Español como el Inglés.

Profesionales de diferentes sectores se dan cita semanalmente en el club Toastmasters Sevilla, unidos por la convicción de que tener buenas cualidades de comunicación y liderazgo son vitales para marcar la diferencia tanto en lo profesional como en lo personal.

El objetivo principal del club Toastmasters Sevilla es que todos sus miembros vayan desarrollando sus carreras de comunicadores y líderes. Practicando, observando e intercambiando valoraciones, se preparan para ser mejores comunicadores tanto en ponencias preparadas como en situaciones improvisadas.
¿Cómo son nuestras sesiones?

Los socios desempeñan distintos roles en las sesiones, con los que llevan a cabo tanto su propio desarrollo como el de sus compañeros del club. Todas estas tareas están guiadas por la probada metodología de Toastmasters Internacional y se realizan, dependiendo de la sesión, en Español y en Inglés.

Hay dos tipos fundamentales de intervenciones en las sesiones que son:

1. Hablar en público en Discursos Preparados

Los socios del club preparan intervenciones en las distintas sesiones realizando los proyectos propuestos en la herramienta Pathways. De esta manera desarrollan diversas habilidades específicas en el marco de la comunicación.

2. Hablar en público en Intervenciones Improvisadas

Los socios del club proponen durante las sesiones temas de improvisación, ofreciendo a los asistentes invitados la posibilidad de salir a escena y realizar discursos o debates improvisados en intervenciones breves.