Event Information
Location
Transition Festival
Pinar Jurado
Carretera Cabezudos
Almonte
Spain
Description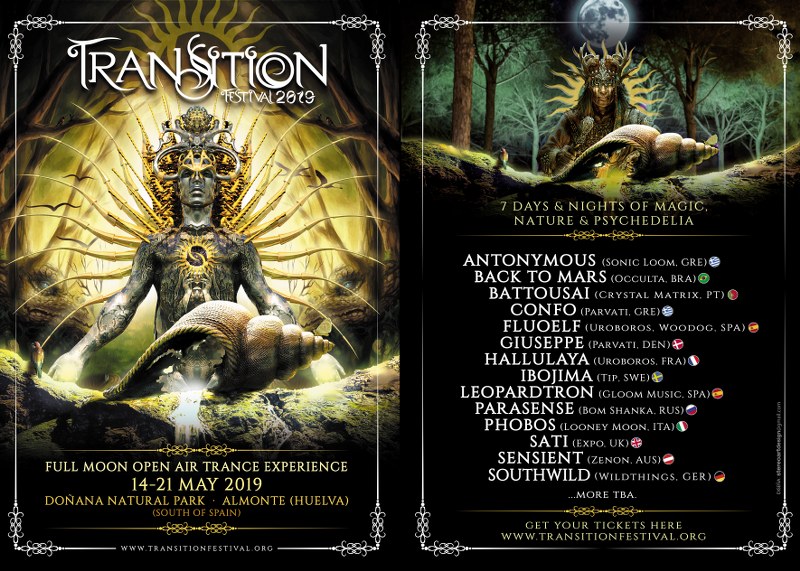 Transition Festival is a powerfull shamanic experience during 7 days and 7 nights in a magical location under the full moon after the Spring Ecquinox. It is an initiation into the dance trance and a new door into another dimension with a constructive intuitive intention: to expand human consciousness and the relation between the soul, the body, and its center of power. Transition comes from latin ("tránsito"): change of position, estate, or concept to another.
ANTONYMOUS (Sonic Loom, GR)
https://soundcloud.com/psyantonymous
BACK TO MARS (Occulta, BRA)
https://soundcloud.com/backtomars
CONFO (Parvati, GR)
https://soundcloud.com/confo-music
GIUSEPPE (Parvati, IT)
https://soundcloud.com/p-30
HALLULAYA (Uroboros, FRA)
https://soundcloud.com/hallulaya
IBOJIMA (TIP Rec, SWE)
https://soundcloud.com/ibojima
LEOPARDTRON (Gloom, SPA)
https://soundcloud.com/leopardtron
PARASENSE (Bom Shanka, RUS)
https://soundcloud.com/parasense
PHOBOS (Looney Moon, ITA)
https://soundcloud.com/phobos_looney
SATI (Expo, UK)
https://soundcloud.com/djanesati
SENSIENT (Zenon Records, AUS)
https://soundcloud.com/sensient
SOUTHWILD (Wildthings, GER)
https://soundcloud.com/southwild
and many more tba...
Parking & Camping
Organic Showers
Flea Market
Workshops
Ecologic Toilets
Chai Shops
Vegan Food
"Steinofen" Pizza
Resting Areas
Minimarket
Merchandising
Transition Festival is one of the best kept secrets of the psytrance scene; a magic family party limited to 1500 dancers. You are welcome to participate by purchasing your tickets, notice the sooner you get them, the cheaper they are. Thank you!
FAQs
Where is located Transition Festival? Latitud 37.237090389954 / Longitud: -6.5692165622022
Are there tickets at the gates? Yes, there will be 500 tickets reserved just for the gates, 100% guaranteed.
What are my transportation/parking options for getting to and from the event? You can bring your own car, caravan, coming on board of the Festival Shuttle, or getting a taxi +34 656482919. You have all the information in the website www.transitionfestival.org
What can I bring into the event? You can bring into the camping area whatever you need to survive 7 days and nights in the forest. Open fires are forbidden.
Where can I keep my valuables? Do not leave your valuables inside your tent. The crew is not responsible of lost or stolen objects.
Does children need to pay? Children under 12 and elders than 60 do not need to purchase a ticket to get the wristbands. However, considering the volumen of the sound systems, it is not recommended to bring children under 2 years old.
Where can I send an email? contact@transitionfestival.org
Date and Time
Location
Transition Festival
Pinar Jurado
Carretera Cabezudos
Almonte
Spain