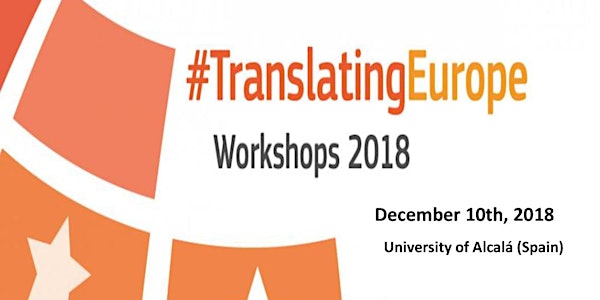 Translating Europe Workshop 2018
Location
Universidad de Alcalá
s/n Plaza de San Diego
Salón de Actos
28801 Alcalá de Henares
Spain
Technology at the Service of PSIT.
About this event
On December 10, 2018 , UAH will host the 'TRANSLATING EUROPE' WORKSHOP (TEW) (EU-DGT) with the main topic:
TECHNOLOGY AT THE SERVICE OF PSIT. Raising awareness and sharing experiences and resources about the importance of MT & Cat tools in crisis situations.
_____________________________________________
LA TECNOLOGÍA AL SERVICIO DE LA TISP. Conocer e intercambiar recursos y experiencias sobre la importancia de la TA y herramientas TAO en situaciones de crisis.
PLACE: UNIVERSIDAD DE ALCALÁ, Salón de actos (Universidad Cisneriana). Pl. San Diego s/n. 28801- ALCALÁ DE HENARES / (Event will be web-streamed)
Event will be web-streamed
Specific objectives
To share programs, applications, software, CAT tools, MT experiences translators and interpreters use or think that will be useful in crisis situations.
To share difficulties they face daily when dealing with activities related to translation in crisis situations.
To comment on solutions and working methods to be tested both from a professional and a didactic point of view.
Participants: Representatives of the academic world, of NGO, institutions, LSP and professional translators & Interpreters, and students
- Gwyneth Stherlin (National Defense University, College of Information and Cyberspace)
- Eduard Cortés (Verasat)
- Ambra Sottile (TWB)
- Federico Federici (INTERACT, EU project)
- Adriana Jaime (VOZE)
- Angelo Pirola (Médicos del Mundo)
- Celia Rico (Universidad Europea)
- Antonio Airapétov (CEAR)
Languages involved: Spanish, English, French, Arabic, Chinese, Russian.
Further information available at:
http://www3.uah.es/traduccion/es/workshop-translating-europe-2018/
http://www3.uah.es/traduccion/es/translating-europe-workshop-2018/
https://ec.europa.eu/info/sites/info/files/2018_translatingeurope_workshops_en_1.pdf
Email: traduccion.online@uah.es Tel: 91 885 53 09