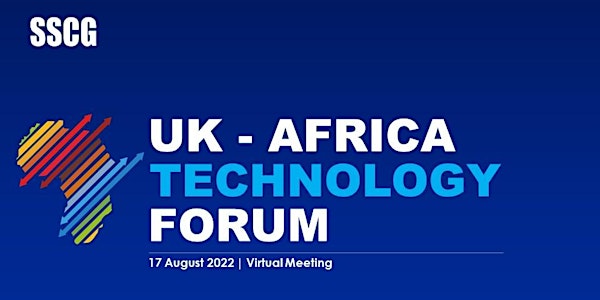 UK - Africa Technology Forum
Economy, Fintech, Digital Banking, Payment Systems Digital Currency, Blockchain, AI, Cyber Security & Inclusive Financial Services in Africa
About this event
Join us for the next SSCG virtual UK - Africa Technology Forum on Thursday 17 November 2022 between 11:00 - 14:00 BST to learn and hear from our speakers, experts and industry leaders. Join us to connect with like minded business leaders, investors and entrepreneurs, to gain latest market updates and industry development, insights, perspectives, strategies and practical best practices.
Agenda
The discussion session with cover several topical areas including:
SESSION 1
Boosting African Digital and FinTech Economy, Market opportunities, Digital Evolution, Ecosystem and Service Providers Landscape, Digital Financial Inclusion, Emerging and Disruptive Digital Banking, e-wallets and Payment Systems
Keynote Address
Hon Faustine Ndugulile - Member Of Parliament (MP), Former Minister for ICT and Former Deputy Minister for Health, Government of Tanzania
Annalyn Rejji - Africa Digital Technology Infrastructure Leader at EY
Abayomi Sule - Managing Director at CarePay
Frans Stander - Director CEMEA - Global Processing with Visa Sub-Saharan Africa at Visa
Parminder Mann - Head of Product - Digital, M-Pesa Africa
Diana Sang - Associate Director: Country Strategy & Partnerships, Digital Impact Alliance (DIAL) at the United Nations Foundation
SESSION 2
Tech Investment, Digital Assets, VC deals, Funding and Financing Opportunities for Investors and Tech Entrepreneurs in Africa
Chioma Nkechika - CEO, CoralPay Technology and Non Executive Director, VFD Microfinance Bank
Eva Warigia - CEO- East Africa Private Equity & Venture Capital Association (EAVCA)
SESSION 3
Central Bank Digital Currencies (CBDCs), Decentralized finance (DeFi), Crypto Market, Non-Fungible Token (NFT), M-Money, Blockchain, AI and Cyber Security Solutions and Adoption
Toyin Oloniteru - President, Crypto Economy Institute of Africa (CEIAfrica)
Noreen Makosewe - Board Advisor, CiTEDD Global
For enquiries and discuss how you can participate and sponsor the summit, email us at info@sscg-group.com
Find more about SSCG at www.sscg-group.com or Twitter @SSCGConsulting and hashtag #SSCGConsulting #SSCGForum #SSCGSummit
GDPR COMPLIANCE
By registering to attend our events, you consent for us to hold your personal data and usage of event images inline with General Data Protection Regulation (GDPR) Compliance. We assure you that your data will be kept confidential and only be used to keep you updated of our events activities. For further inquiries, please email info@sscg-group.com.