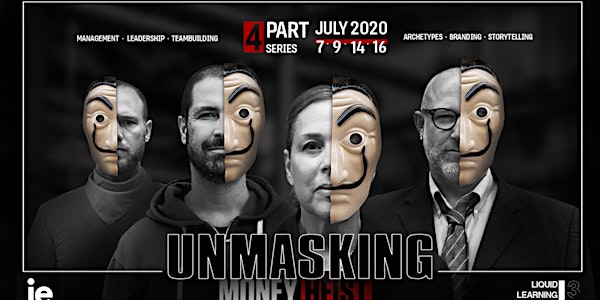 Unmasking Money Heist : Building an Awesome Team
Welcome to "UNMASKING MONEY HEIST" - the global launch of a 4 Part Liquid Learning Lab !
About this event
A Dali mask. 
Red coveralls.
A city nickname. 
Taken separately, these elements have little meaning. But when they became the chosen costumes of the "Resistance" in the acclaimed international hit sensation Netflix series "MONEY HEIST", suddenly they were transformed into symbols of rebellion - "the resistance, indignation, and skepticism" towards "the system," as the Professor says in episode 1 of season 3.
The costumes are much more than clothes that criminals wear as a disguise. They present us with an open door for ANYBODY to become part of the Resistance - an idealistic, Robin-hood rebellion. As viewers we are captivated, inventing our own city names, imagining ourselves confronting and overcoming the challenges that Tokyo, Rio, Berlin, the Professor and the rest of the team face.  We live in a time when movements spread across the globe in an instant. When a tweet in Washington DC can rattle the stock markets in Beijing. And fans joined "Money Heist" in the millions, from South America to Southeast Asia. Real-life protesters actually wore them in real-life protests. The revolution was, in fact, being televised. 
Our lives have become seemingly dominated by consuming content: we watch, chat, share, create, like, comment and obsess over everything from memes to videos and from gifs to recipes. But are there deeper lessons to be learned in a series like "Money Heist"? 
What if we broke into "Money Heist" and extracted  the knowledge that Brands, Companies, Organizations and Individuals could learn from it?
Welcome to "UNMASKING MONEY HEIST" - the global launch of a 4 Part Liquid Learning Lab - an interactive, online, multimedia, interdisciplinary learning experience.
Join a team of international experts as we break into the lessons that Money Heist can teach us:
• How do the leadership, teamwork and management styles within the Resistance play out, and how we can apply that to the teams we work within?
• What are the Brand Symbols that make the show unique and how can real-life brands create and use their own symbols to create loyalty and build customer awareness?
• What are archetypes, how are they used within the show, and what is the the power of using archetypes within our own Brands?
• What is the true power of Storytelling, how is it used in the series, and what is the importance of Storytelling in brand success?
4 Part Liquid Learning Lab
Duration: 1.5-2 hours each session
Session 1:
Storytelling and the power of Brand Stories
Archetypes and how Brands use them
Branding and Brand Symbols
Session 2-4:
Leadership, Management and Teambuilding
Click in the link below to Join the Resistance and meet YOUR professors:
New York (Sandra Comas)
Brian Hallett (The Professor)
Javier Goiri (Madrid)
Rob Knook (Amsterdam)
Don't miss this incredible opportunity to break into the knowledge that Money Heist has to offer.
Oh, and choose your city name. And bring your mask.