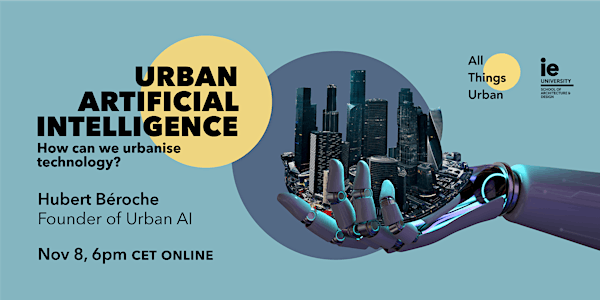 Urban artificial intelligence: How can we urbanise technology
Join us in our next Masterclass from the "Cities and Jobs Series"
About this event
Welcome to our "Cities and Jobs Series" organized in collaboration with All Things Urban.
Cities only occupy 2% of the planet's surface, but they accommodate more than 50% of the population. They consume 75% of global energy, produce 80% of global CO2 emissions, and they generate more than 80% of the global GDP today. These numbers put cities at the center of any discussion about global warming, urbanization, progress, and social
On these (3) three online webinars we will tackle conversations from "Urban Artificial Intelligence: how can we urbanise technology?" to "Urban Green Infrastructure: How can nature save cities" and "Urban social inequalities: How can cities include people?"
Join the conversation no matter where you are in the world!
WEBINAR 1: URBAN ARTIFICIAL INTELLIGENCE
Speaker name: Hubert Béroche, Founder of Urban AI
Title of webinar: "Urban artificial intelligence: How can we urbanise technology?"
Date of webinar: Tuesday 8 November 2022 6pm CET Online
What is Urban Artificial Intelligence? How can it help us build sustainable cities and empower communities? What are the possible risks of this technology? During a 6 months world tour, Hubert explored 12 cities and met more than 130 stakeholders working in the field of artificial intelligence (AI) and technology in cities. This world tour aimed to understand how AI will impact our cities, and answer some of the pressing questions regarding this emerging trend that is shaping our collective future.
Register to the first one on the series.
To learn more about our Bachelor in Urban Studies, click here