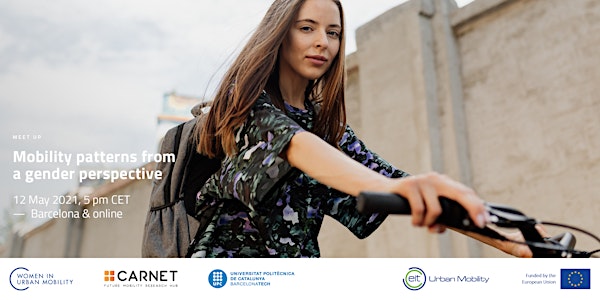 Urban Mobility Patterns from a Gender Perspective
Are there differences in mobility patterns according to gender? If you want to know, don't wait and join this event!
About this event

CARNET and the Universitat Politècnica de Catalunya UPC are hosting this event as part of the Women in Urban Mobility project WUM.
For more information on WUM please clik here.
AIMS:
Differentiate mobility patterns according to gender, find the reasons and consequences of these differences, and identify strategies to ensure gender equality in urban mobility.
We celebrate this event on International Women in Mathematics Day as a way of paying special tribute to the contributions made by women scientists and researchers in the field of urban mobility.
AGENDA:
1. Opening 17h00 - 17h15
Joan Maria Bigas - Head of the Mobility, Transport and Sustainability Area (AMB)
Silvia Casorrán - Counselor of Mobility and Accessibility. Barcelona City Council
2. Keynote speakers & debate 17h15 - 18h15
Imma Ribas - Universitat Politècnica de Catalunya (UPC)
Oliva García - NOMMON Technologies
Carles Casas - Ferrocarrils de la Generalitat de Catalunya (FGC)
Moderator: Laia Pagès - Executive director at CARNET
3. Round table & open question time 18h15 – 18h45
4. Closing 18h45 - 19h00
STREAMING
Due to the health situation, this event is limited to a small number of attendees, however, it will be broadcasted online. Days prior to the event, the access link will be shared through the different information channels and by email.
WHO ARE WE
Women in Urban Mobility is a joint project of UnternehmerTUM Munich, Universitat Politécnica de Catalunya, CARNET, and Junior Achievement Bulgaria.
Our vision is to create a unique network of urban mobility experts across Europe and raise awareness for female perspectives and gender equality in the urban mobility sector.
Stay up to date and sign up for our Women in Urban Mobility Newsletter. Click here!