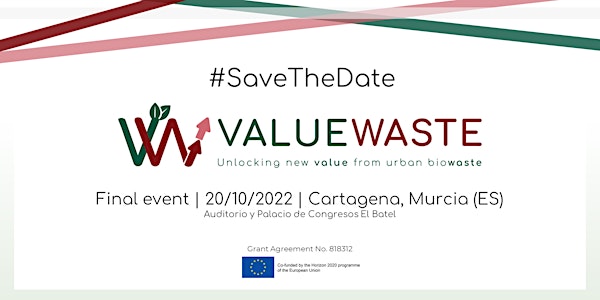 VALUEWASTE Final Event
VALUEWASTE final event: unlocking new value from urban bio-waste
When and where
Location
Auditorio y Palacio de Congresos El Batel S/N Paseo Alfonso XII 30201 Cartagena Spain
About this event
VALUEWASTE was born to help answer the world's rising urban biowaste management challenges. For 4 years, it has worked to develop circular, sustainable and efficient biowaste valorisation schemes for cities across Europe.
Now, the next 20 of October, VALUEWASTE will organise at El Batel Auditorium and Conference Center (Murcia, Spain) a final public conference to present the results of 4 years of work and debate with experts and related actors about the present and future challenges of the bioeconomy at the urban level.
Why join us in Cartagena for the final event?
Participate in person in the final project conference where the results of 4 years of work will be presented.
Take part in a debate with experts on the present and future challenges of the bioeconomy at the urban level: the selective collection of urban biowaste, with examples of actions carried out in Murcia (ES) and Kalundborg (DK); technologies for the recovery of urban biowaste; or citizen awareness and acceptance of products derived from biowaste
Connect with key players in the sector.
Find out first-hand about opportunities available in Europe to promote the bioeconomy in cities, presented by a representative of the European Commission.
Visit the project exhibition, with materials developed for the different VALUEWASTE campaigns, final products, and videos of the project... among other elements to be confirmed.
Connect the experience with the final conference of the SCALIBUR project: "Breaking barriers to make the most of biowaste
The conference will be held in English, with simultaneous translation to and from Spanish. Coffee and lunch will be served to all attendees.
A joint opportunity: VALUEWASTE and SCALIBUR
VALUEWASTE is organising its final event hand in hand with its friend project SCALIBUR, who will organise its final conference the day before (19/10/2022) in Valencia (ES): "Breaking barriers to make the most of biowaste". This event will present new innovative technologies and methods to aid waste collection.
Attendants taking part in the VALUEWASTE final event are also encouraged to take part in the SCALIBUR final conference to make the most of the joint experience. Here is the agenda for the SCALIBUR event.
Who is the event for?
The event is aimed at waste management companies, municipalities and local entities interested in the selective collection of organic waste, biotechnology companies, the scientific and academic community and anyone interested in promoting the circular economy at a local level.
Event organiser: CETENMA
The Technology Centre for Energy and Environment is a private, non-profit Business Association, founded in 2000. CETENMA supports companies with technological research, development and innovation in all areas relating to water technologies, waste treatment, bioenergy, renewable energies and energy efficiency.
CETENMA is the project coordinator of the VALUEWASTE project.
VALUEWASTE project partners
CETENMA – Centro Tecnológico de la Energía y el Medio Ambiente (Spain)
Innovarum (Spain)
Savonia University of Applied Sciences (Finland)
PreZero (Spain)
Ayuntamiento de Murcia (Spain)
Instituto Tecnológico de Aragón – ITAINNOVA (Spain)
Unibio (Denmark)
Food Bio-Cluster Denmark (Denmark)
Asociación Española de Normalización – UNE (Spain)
Nutrient Recovery Systems – NuReSys (Belgium)
EkoBalans – (Sweden)
Ingeniería y Desarrollos Renovables – INDEREN (Spain)
GAIKER-IK4 Technology Centre (Spain)
Entomo AgroIndustrial (Spain)
Kalundborg Kommune (Denmark)
European Biomass Industry Association-EUBIA (Belgium)
CARINSA GROUP (Spain)
This project has received funding from the European Union's Horizon 2020 research and innovation programme under Grant Agreement No. 818312.