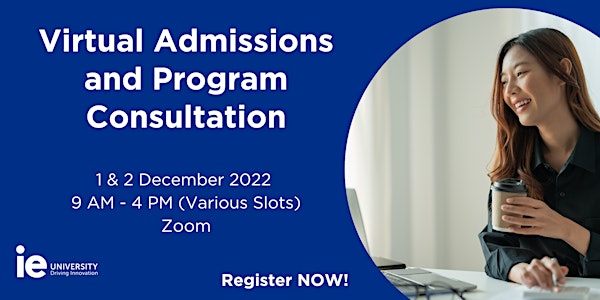 Virtual Admissions & Program Consultation - Southeast Asia & Oceania
Only for candidates residing in Southeast Asia & Oceania!
About this event
Investing in your professional development and career progression? IE is here to help you make the decision to pursue higher education with confidence.
Join us for a meaningful 30-min conversation about your match with IE. We can discuss any detail about the program(s) of your interest, the admissions process, or any insight into one of the most innovative universities. All with the goal in mind that you can become a driving member of the IE Community in 2022 and beyond.
Upon registration, we will contact you to choose a time slot for your 30-minute consultation.
If you are about to submit your program application, check out the upcoming IE Global Admissions Test dates in your country on events.ie.edu.
We look forward to meeting you virtually! Please contact singapore@ie.edu if you have any questions.
*This event is only for those residing in Southeast Asia & Oceania