Virtualización y Cloud. Sistemas y Telefonía IP

Wednesday, April 2, 2014 from 5:00 PM to 9:00 PM (CEST)
Event Details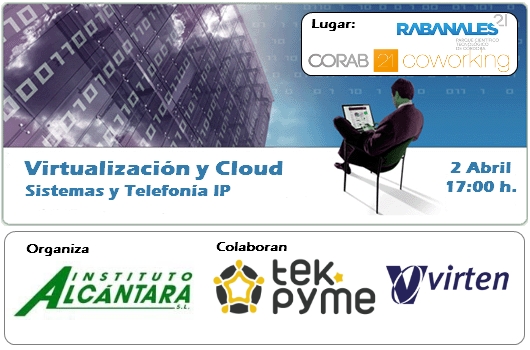 - ¿De Qué es la virtualización?
- ¿De Qué Se Puede virtualizar?
- Ventajas de la virtualización Sobre el Entorno Físico
- Montaje de Infraestructura VMware
- Demo de clúster acondicionado cabina de discos de Entorno en production
- Demo de Sesiones en Entorno virtualizado.
3 -. Nube
- ¿De Qué es el cloud?
- ¿Donde está el cloud?
- Nube de como Servicio
- BYOD
- Streaming de Equipos Físicos
- Copia de seguridad de la nube
- Soluciones de punto final
4 - Telefonía IP.:
- ¿Que es la telefonía IP?
- Differences Estructurales Entre telefonía analógica e IP
- ¿Como sí utiliza la telefonía IP?
- Centalitas IP
- Demo de telefonía IP
Lugar


When & Where

Rabanales 21 - Espacio de Coworking Corab21
ID8.1 Astrónoma Cecilia Payne
#Edificio Centauro
14014 Córdoba
Spain


Wednesday, April 2, 2014 from 5:00 PM to 9:00 PM (CEST)
Add to my calendar
Organizer
Organiza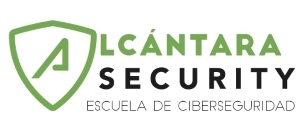 Fundado en 1926 con clara vocación  multidisciplinar, Alcántara es el Grupo Empresarial con mayor tradición y reconocimiento en los servicios de consultoría a pequeñas y medianas empresas de Córdoba, especializados en la Formación Empresarial, la Consultoría Fiscal y Económico Financiera, los Recursos Humanos, el Marketing y las Nuevas Tecnologías en Comunicación. El Instituto Alcántara pone su esfuerzo diario en la mejora de la formación de los trabajadores de empresas y organismos públicos para conseguir un correcto funcionamiento de todas y cada una de sus áreas.
Colaborador

Participa