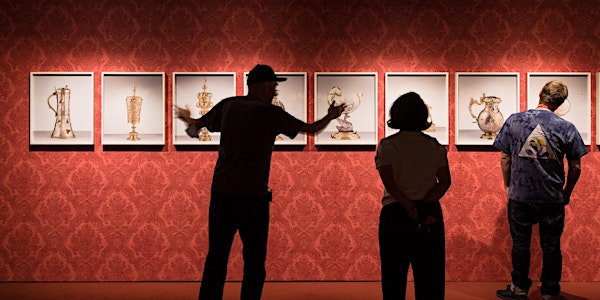 Walid Raad: Two Drops per Heartbeat (Recorrido guiado/Walkthrough)
Two Drops Per Heartbeat | Exposición y recorridos guiados por el artista · Exhibition and walkthrough led by the artist
When and where
Location
Organizado por TBA21 en el Museo Nacional Thyssen-Bornemisza (Punto de encuentro: ascensores hall central planta 0 / Meeting point: central hall lifts level 0) Paseo del Prado 8 28014 Madrid Spain
Refund Policy
Contact the organiser to request a refund.
Eventbrite's fee is nonrefundable.
About this event
La exposición Walid Raad: Cotton Under My Feet es el resultado de tres años de peripecias creativas y culminará con una serie de performances que revelan las intrincadas hipótesis historiográficas que articulan este nuevo proyecto. El artista Walid Raad guiará un recorrido titulado Two Drops per Heartbeat que ofrecerá a los visitantes una mirada sorprendente sobre el Museo Nacional Thyssen-Bornemisza.
En su incursión por las entrañas del museo, Raad ha exhumado fragmentos de relatos, documentos ficticios y desconcertantes artefactos. Algunos proceden del mundo de la historia. Otros, de un lugar llamado ficción. Por último, hay algunos que proceden del reino de la no-muerte. Algunos mensajes contienen advertencias; otros evocan rituales subversivos y rutinas de conservación; y otros sumergen a los visitantes en los laberintos espacio-temporales donde residen ciertas obras de arte.
A través de una maratón narrativa de aproximadamente 75 minutos, Raad invita a los visitantes a adentrarse con él en una red de coincidencias inesperadas. La recompensa vale la pena: una reflexión vertiginosa sobre el legado potencial de las colecciones Thyssen-Bornemisza y sus vínculos con la historia del arte occidental y no occidental.
*Habrá dos pases diarios, a las 13:00h y a las 17:30h. La duración estimada de cada presentación es de 75 minutos. Los recorridos se ofrecerán en dos idiomas, en inglés por Walid Raad con traducción simultánea al español.
*Esta actividad forma parte de la exposición Cotton Under My Feet, organizada por Thyssen-Bornemisza Art Contemporary (TBA21) con la colaboración del Museo Nacional Thyssen-Bornemisza.
Para ampliar la información puedes visitar la web del organizador, TBA21 o la web del Museo Nacional Thyssen-Bornemisza, donde se realiza la actividad.
www.tba21.org ··· www.museothyssen.org
Si necesitas contactar con nosotros, puedes escribirnos a madrid@tba21.org
_______________
The result of a three-year creative journey, the exhibition "Cotton Under My Feet" will culminate in a series of performances revealing the twisted historiographical hypotheses driving this new work. The artist Walid Raad will lead a walkthrough titled "Two Drops per Heartbeat" taking visitors on a dazzling tour through the Museo Nacional Thyssen-Bornemisza.
Deep in the museum's bowels, Raad has unearthed fragments of stories, fictional documents, and puzzling artifacts. Some of these reached him from this historical world, while others from a place called fiction, and yet others from the realm of undeath. Some messages heed warnings, some contain seditious rituals and conservation routines, and others take visitors to the labyrinthine spaces and times some of the artworks inhabit.
Brought to life in a slippery narrative marathon about seventy-five minutes long, Raad entices visitors to follow him into the rabbit hole of conjuncture he has constructed. He offers them a vertiginous reflection on the potential legacy of the Thyssen-Bornemisza collections and their relation to the history of Western and non-Western art.
* There will be two presentations per day, at 1:00 pm and 5:30 pm. The estimated duration is 75:00 minutes. Walkthroughs will be offered in two languages, in English by Walid Raad with simultaneous translation into Spanish.
*This activity is part of the Cotton Under My Feet exhibition, organized by the Thyssen-Bornemisza Art Contemporary (TBA21) in collaboration with the Museo Nacional Thyssen-Bornemisza.
For further information please visit TBA21website or Museo Nacional Thyssen-Bornemisza website.
www.tba21.org ··· www.museothyssen.org
If you still got questions, please contact us at madrid@tba21.org