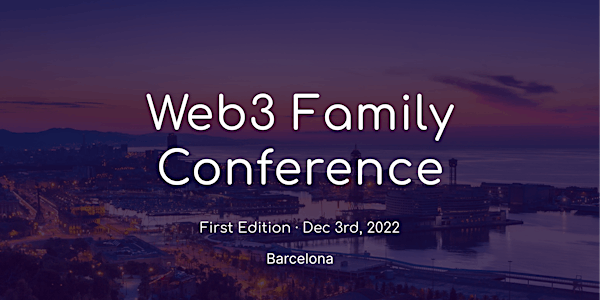 Web3 Family Conference — 1st Edition
Web3 Family Conference is a human-size, affordable and independent event featuring quality speakers and fostering meaningful interactions.
When and where
Location
AKASHA Hub Barcelona 19 Carrer de la Verneda #Local 1 08018 Barcelona Spain
Refund Policy
Contact the organizer to request a refund.
About this event
Schedule
12PM to 8PM.
Purchase Tickets 🎟
22.22 euros with paypal via this very eventbrite page. 💻
22.22 euros with crypto, message Adrien to get the details. 💸
25 euros at the door if we have tickets left. 🚪
Languages
Talks will be in English but as for all our past events, other languages are spoken during other parts of the gathering. 🗣👽
Talks and Open Debates
Each talk may be followed by a public debate where everyone gets the chance to share their experience and opinion. Duration for each talk: ~20min. Duration for debate: max 20min.
· 12:00PM - "How to start a Web3 Career" by Skrillah of Secret Network.
· 1:00PM - "Onchain identity and data certification" by Agustin Plombardi of TheBadge.xyz.
· 2:00PM - "Lessons Learnt on DAO Governance" by Tadeo of Makerdao's Data Insights Core Unit.
· 3:00PM - "Do we need a decentralized Patreon?" by Elena Tairova and Daniel Maricic co-founders @ Kelp.Digital and Anagolay Network.
· 4:00PM - "Bitcoin's road to sovereignty & self-custody" by Alexandre Poltorak, co-founder at Hodling.ch.
· 5:00PM - "Tokenised Branding" by Max. Art director, branding and founder of several NFT and Web3 projects.
· 6:00PM - Talk on "Building ERC NFT Ecosystem" by Anett Rolikova of NftStandards.wtf and ETH Magicians.
· 7:00PM - "Zero Knowledge 101" by Daniel Lumi, ZK Researcher and Consultant.
Debates Run by Rotating Moderators Robbie Kruszynski of Block Daemon, Antoine Herzog of Espresso Cash, Nic Laz of CryptoBarna, Jeff Cross of Dragon Gateway, Mijail Popov of N&W, and Paul of Metareal Network.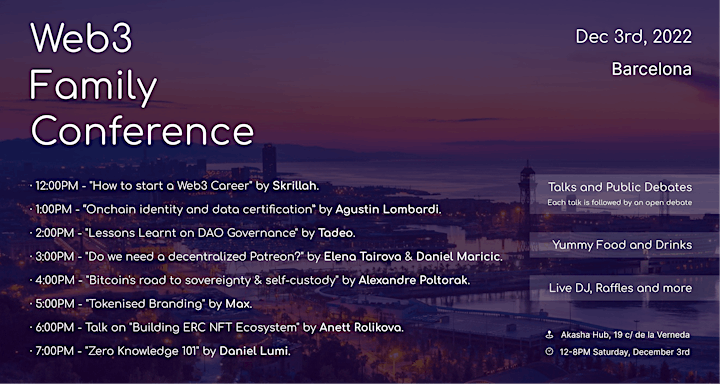 Vibe
We have "no project showcase policy" in order to avoid ungraceful project shills. Similar to the meetups, the atmosphere is cosy and casual despite the high quality of the talks. Everyone is welcome. 🤗
Food and Drinks
Tickets are mega cheap so food and drinks are charged for. It will be very affordable though, count under 6 euros for super tasty food cooked by Julia 👩‍🍳🥘🍪 and 1-2 euros for drinks. ☕️🍺
Music
Azadi Sound will play some nice tunes for us 🔊🔊🎶🎶🔊🔊
Location
Akasha Hub, here on GMap. Playing on familiar turf to set the tone for a smooth event with a friendly and happy vibe. 💜
Raffles
Attendants have the chance to win many prizes including Ledger Nano S+, Seed Engraving Kits, T-Shirts, Hats, Socks, Mugs and more surprises 💝
Gratitude
Special thanks to Akasha for hosting us, Ledger for the hardware wallets and all the people who actively take part in the event whether cooking, bar tending, checking tickets at the entrance or else. 🙏