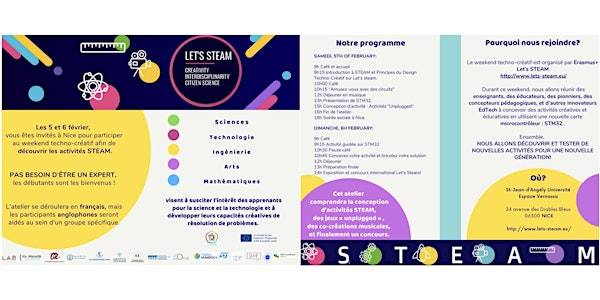 Weekend techno-créatif Let's STEAM 2022
Les 5 et 6 février, vous êtes invités à Nice pour participer au weekend techno-créatif afin de découvrir les activités STEAM.
When and where
Location
Université Côte d'Azur 24 Avenue des Diables Bleus Espace Vernassa 06300 Nice France
About this event
Pas besoin d'être un expert, les débutants sont les bienvenus !
L'atelier se déroulera en français, mais les participants anglophones seront aidés au sein d'un groupe spécifique.
Les STEAM (Sciences, Technologie, Ingénierie, Arts et Mathématiques) visent à susciter l'intérêt des apprenants pour la science et la technologie et à développer leurs capacités créatives de résolution de problèmes.
Le weekend techno-créatif est organisé par Erasmus+ Let's STEAM (http://www.lets-steam.eu/). Durant ce weekend, nous allons réunir des enseignants, des éducateurs, des pionniers, des concepteurs pédagogiques, et d'autres innovateurs EdTech à concevoir des activités créatives et éducatives en utilisant une nouvelle carte microcontrôleur : STM32. Ensemble, nous allons découvrir et tester de nouvelles activités pour une nouvelle génération.
Cet atelier comprendra la conception d'activités STEAM, des jeux « unplugged » (en mode débranché), des co-créations musicales, et finalement un concours.
Découvrez les dernières nouvelles de Let's STEAM et comment les innovateurs et les enseignants marquent le monde de l'éducation.
---------------------------------------------------------------------------------------------
(English version)
Registration is now open for the techno-creative weekend Let's STEAM 2022
This 5th and 6th February 2022, we invite you to come to Nice for a techno-creative weekend to discover STEAM activities. No prior knowledge is required, newbies welcome!
The workshop will be held in French, but English-speaking participants will be helped within a specific group.
The STEAM (Sciences, Technology, Engineering, Arts and Mathematics) aims to stimulate the interest of apprentices in science and technology, and to develop their creative problem solving skills.
The techno-creative weekend is organised within the Erasmus+ Let's STEAM (http://www.lets-steam.eu/). During this weekend, we will reunite teachers, educators, leaders, pioneers, instructional designers, and other edtech innovators to design creative learning activities using a new microcontroller card: STM32. Together, we will experience and test activities for the next generation of techno-creative learning.
The workshop will include the design of STEAM activities, unplugged games, music co-creation and a final contest.
Check out the latest news of Let's STEAM and how innovators and teachers are making their mark on education.