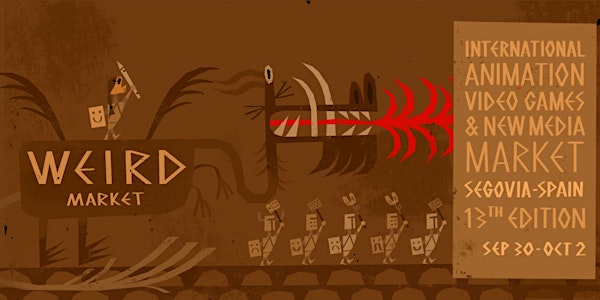 Weird Market 2021
13º WEIRD MARKET, MERCADO INT. DE ANIMACIÓN, VIDEOJUEGOS Y NEW MEDIA 1 - 2 DE OCT La Cárcel_Segovia Centro de Creación. Segovia, Es
When and where
Location
La Cárcel_Segovia Centro de Creación Avenida Juan Carlos I s/n Sala Ex.Presa 1 Segovia Spain
Refund Policy
Refunds up to 7 days before event
Eventbrite's fee is nonrefundable.
About this event
1- 2 DE OCTUBRE 2021
La Cárcel, Segovia Centro de Creación. Segovia, España
Weird Market abre las acreditaciones de su 13ª edición a todos los profesionales de la Animación, los Videojuegos y los New Media que quieran asistir los días 1 y 2 de octubre de 2021. Una vez más Weird Market reunirá a todo el talento nacional e internacional en una cita ineludible para el networking del sector. Conferencias, mesas redondas, networking, encuentros… además de la presentación de los mejores proyectos de animación y videojuegos que recopilamos un año más en nuestro catálogo. Todo en el mejor ambiente para ver y dejarse ver. En los próximos días se publicará la programación definitiva del Mercado, que comenzará el día 30 con la jornada de recruitment (*las actividades de este día son cerradas bajo inscripción o invitación) y la proyección de los cortos nacionales de 3D Wire Fest (gratuito y hasta completar aforo); y los días 1 y 2 tendrán lugar las conferencias, las cabinas de visionado y las diferentes actividades de networking. Además contaremos con las presentaciones de proyectos y las conferencias de distintos profesionales del sector como Pablo Berger, Graham Gallagher, Isabel Tallos y Diego Porral, que estrenará el cortometraje Leopoldo el del bar. Toda la programación se publicará en la página de Weird Market en las próximas semanas. La Cárcel, Segovia Centro de Creación será la única sede del evento, un fantástico entorno para el networking. Debido a la situación epidemiológica y las medidas de control y prevención el aforo de este año será limitado. Lamentamos las molestias que podamos ocasionar.
El último día para poder comprar entradas es el 23 de septiembre de 2021 a las 23:00.
ACREDITACIONES AGOTADAS. Si no has podido conseguir acreditación por favor escríbenos a weird@weirdmarket.es Te pondremos en una lista de espera por si alguien se diese de baja o si fuese posible hacer alguna ampliación para albergar un mayor número de asistentes.
Weird Market 2020 Highlights de Weird Market en Youtube y 3D Wire 2019 Highlights de 3D Wire en Vimeo.
*Política de reembolso sujeta a las condiciones de Eventbrite.
Weird Market's 13th edition opens the accreditation request period for all the Animation, Video Games and New Media professionals who want to attend October 1st - 2nd 2021. Once again Weird Market will gather together all the national and international talent in a must-attend event for the networking of the industry. Conferences, round tables, networking, meetings… As well as the presentation of the best animation and video game projects which we compile every year in our catalogue. Everything in the best environment to see and be seen. In the coming days the final schedule of the market will be published, which will start on September 30th with the recruitment day (* the activities of this day are closed under registration or invitation); On days 1st and 2nd the conferences, the screening booths and the different networking activities will take place. We will also have project presentations and conferences from different professionals in the sector such as Pablo Berger, Graham Gallagher, Isabel Tallos and Diego Porral, who will present the premiere of the short film Leopoldo el del bar. The full programme will be published on the Weird Market website in the coming weeks. La Cárcel, Segovia Centro de Creación will be the only venue, the best environment for networking. Due to the epidemiological situation and the control and prevention measures, this year's capacity will be limited. We apologise for any inconvenience this may cause.
The last day to buy tickets is September 23rd, 2021 at 23:00.
Weird Market 2020 Highlights from Weird Market on Youtube and 3D Wire 2019 Highlights from 3D Wire on Vimeo. *Refund policy subject to the Eventbrite's conditions.