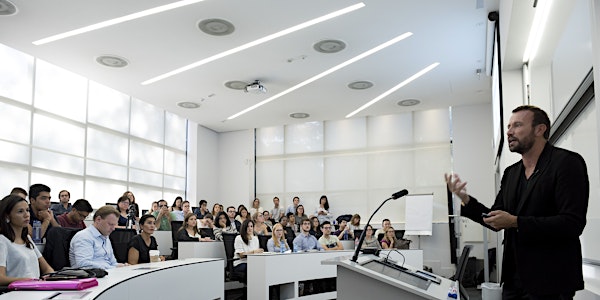 Why Business Innovation May Come From the Arts
Face-to-face Master Class in Guadalajara
Date and time
Tuesday, October 25, 2022 · 6 - 7pm CDT
Location
iOS Offices Américas Av. de las Américas 1500, Col-PISO 17, Country Club Guadalajara, Jalisco, 44610 Mexico
About this event
Two primary sources of innovation that often come to mind are the business and science worlds. But there is one space defined by originality and forward thinking that is often overlooked – the arts.    
Join IE Professor Nir Hindi in this Master Class to analyze present and past real examples of business companies and technologies to understand how the art impacts on innovation processes.
Defensor that "Art is a mindset and not an object", Nir will show how artists drive technological innovation and what skills are needed to do so.
About the speaker
Hindi, originally from Tel Aviv, Israel, is an entrepreneur and the founder of The Artian, a transdisciplinary consulting company. In their work, The Artian fuses and mixes art mindset in business and technology environments to pursue originality. 
He is an adjunct professor at IE Business School, a mentor and judge at the Leman Program on Creativity and Entrepreneurship at Harvard University, as well as a member of the Cultural Leaders Network at the World Economic Forum.
In addition, he is a mentor in leading startup programs, including Startupbootcamp, Endeavour, and others; the founder of the Art & Tech event series, and part of Cotec's 100 experts, an organization chaired by the Spanish King to promote innovation in Spain. 
About the organizer
IE shapes leaders with global vision, an entrepreneurial mindset and a humanistic approach to drive innovation and change in organizations