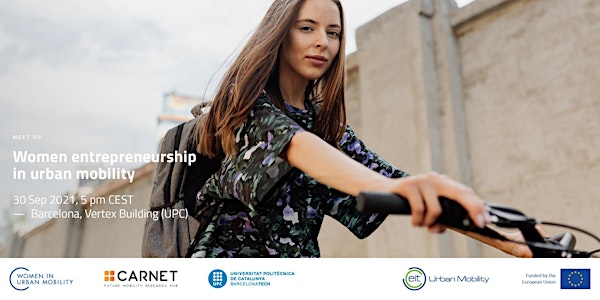 Women Entrepreneurship in Urban Mobility
At what point is women's role in entrepreneurship in urban mobility? If you want to know more about this fascinating world, join us!
When and where
Location
Auditori de l'Edifici Vèrtex al Campus Nord de la UPC Plaça d'Eusebi Güell 6 08034 Barcelona Spain
About this event

CARNET and the Universitat Politècnica de Catalunya UPC are hosting this event as part of the Women in Urban Mobility project WUM.
For more information on WUM please click here.
AIM:
To gain a better understanding of the expanding role of women in urban mobility entrepreneurship, to recognize which the current context is, and to learn how to deal with these times of crisis and with the future in general. Experts on the field will share their experiences and knowledge in the meetup.
AGENDA:
1. Opening 17:00 - 17:15
Daniel Crespo - Rector of the Universitat Politècnica de Catalunya (UPC)
2. Small talks 17:15-17:35
Fredrik Hånell - Business Creation Director at EIT Urban Mobility
Esther Real - Director of the Barcelona School of Civil Engineering (UPC)
3. Debate & open questions time 17:30 – 18:45
Mar Alarcón - CEO of Social Car
Miquel Marti - CEO of Tech Barcelona
Cristina Aresté - Head of Innovation Management Service (UPC)
Moderator: Esther Real (UPC)
4. Closing & Coffee* 18:45 - 19:00
HYBRID MODALITY
We are delighted to finally meet face to face after such a long time! However, we recognize that owing to the health situation, there may be certain constraints, thus this event will also be streamed online. The access link will be sent through the different information channels and through email a few days prior to the event.
WHO ARE WE
Women in Urban Mobility is a joint project of UnternehmerTUM Munich, Universitat Politécnica de Catalunya, CARNET, and Junior Achievement Bulgaria.
Our vision is to create a unique network of urban mobility experts across Europe and raise awareness for female perspectives and gender equality in the urban mobility sector.
Stay up to date and sign up for our Women in Urban Mobility Newsletter. Click here!
* This catering is financed by the UPC within the WUM project funded by the EIT Urban Mobility.