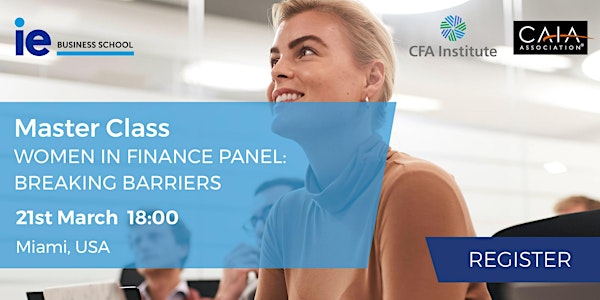 Women in Finance Panel: Breaking Barriers - Miami
Date and time
Thursday, March 21, 2019 · 6 - 8pm EDT
Location
Banco Santander 1401 Brickell Avenue Auditorium - 1st Floor Miami, FL 33131
Description
In collaboration with our Academic Partners, CFA Institute & CAIA, we bring you ...
A professional panel that brings female professionals working in different areas of finance to share their personal and professional experiences as women in finance.
Six outstanding women who have achieved success through differerent career paths will talk about their journey and accomplishments.
The panel aims to uncover the numerous career opportunities available within the finance industry and pinpoint their specific characteristics. The event will also focus on discussions around the most prevalent topics affecting women in these industries. After the panel discussion, attendees will have an exclusive networking opportunity with our speakers.
Some guideline questions for this Finance Roundtable discussion are:
"Success in finance does not depend on gender".

Do you think that a woman in finance has equal chances with a man?

If so, why are there a few women in finance?

What challenges women could be facing in their finance career and how to conquer them?
Some people say being a woman is in disadvantage in finance sector and some others say it's an advantage. So, being a female has a double effect?
OUR WOMEN PANEL
Ailda Alushi, Vice President at Lloyd Jones Capital
Ailda serves as the Vice President of Asset Management for Lloyd Jones Capital. In her prior role at Morgan Stanley she served as Finance Manager in Private Equity and Real Estate reporting where she spearheaded automation project of the balance sheet for $ 1.4b investment portfolio of MS PE funds.
Rebecca Brooks, VP Latam Digital Onboarding and Market Manager at Citi
Rebecca is the VP of Latam Digital Onboarding and Market Manager at Citi. She leads the transformation of Client Onboarding experience for Treasury and Trade Solutions (TTS) corporate clients and additionally responsible for LATAM Market Management for Account Services products as part of Channel and Enterprise Solutions (CES). Previously, Rebecca served as a program manager to launch a data driven, customer experience while integrating technology to enhance operations.
Natalia Obregon, Vice President Finance, Banco Santander
Natalia Obregón has worked at BSI for 19 years, joining as a banker servicing clients in Central America and the Caribbean and later transitioning to Commercial Planning, monitoring banker performance, reporting monthly results, and contributing to the Bank's overall strategy. In this capacity, she was part of a small team that helped open BSI branches in Houston, San Diego, Los Angeles, San Francisco and Seattle. Currently, as Financial Planning Manager, she oversees the commercial strategic planning, analysis and reporting functions of the unit. Natalia is originally from Spain but was raised in Miami. She studied International Business and Marketing in Madrid and lives in Miami with her husband and two sons.
Mercedes Zhang, senior at Florida International University with an expected graduation date of May 2019
She has also been involved in Florida International University within their Student Managed Investment Fund as a Healthcare Associate Sector Manager (Fall 2017) and Sector Manager for the Energy Sector (Spring 2018). She led FIU's school team in the CFA Institute Research Challenge, placing 2nd in the state of Florida against 16 other universities, the highest ranking the university has earned in its history. She is currently the Founder and Co-Director of Alternative Investments in one of the school's largest Investment Banking Organization called The Alternative Investments Insight Group at FIU.
Tisha Turner, CFA, CAIA, FRM
Tisha is an Investment Risk Manager at Franklin Templeton where she manages and monitors firm-wide derivatives counterparty risk. Prior to joining Franklin Templeton, she led implementation engagements of sales, trading and risk management solutions for multinational banks based in New York, Montreal and Manila. Tisha is a CAIA charterholder and served on the CAIA Miami Executive Committee. She is a CFA Charterholder and Vice President of CFA Society South Florida and holds the Financial Risk Manager designation. Tisha earned her BS in Electrical Engineering from Howard University and her MBA from MIT Sloan School of Management.
Irina Zilbergleyt, Director at IE Business School Talent & Careers
Irina is a career advisor and lecturer for the Master in Finance and MBA programs and focuses on relationships with Asset Management, Private Equity and Venture Capital firms. Irina has over 11 years of experience in private equity and investment banking in New York and Chicago. Prior to joining IE Business School, Irina was a Vice President at Ares Management and Senior Associate at Allied Capital, where she evaluated, structured and executed investments in real estate, private equity and fixed income asset classes. Previously, she was a Corporate Finance Analyst at Merrill Lynch where she participated in the execution of mergers and acquisitions as well as in transactions in the debt and equity capital markets. Irina holds an undergraduate degree in Finance (summa cum laude) from the University of Illinois at Urbana Champaign.
About the organizer
IE shapes leaders with global vision, an entrepreneurial mindset and a humanistic approach to drive innovation and change in organizations.