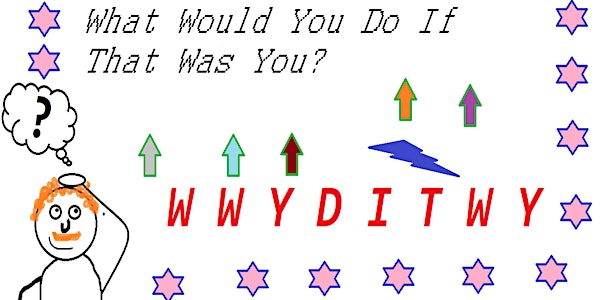 Multiple dates
WWYDITWY • Stand-Up Comedy in English
What Would You Do If That Was You? is an absurd comedy game show. It is in English. It is 18+
By The Comedy Clubhouse BCN
Date and time
January 3 · 8pm - June 20 · 9:45pm CET
Location
The Comedy Clubhouse 10 Carrer dels Canvis Nous 08003 Barcelona Spain
About this event
What is What Would You Do If That Was You?
🤡🎙️ Wwyditwy? is a comedy game show in which contestants are judged on their creativity and ability to improvise when presented with absurd, morally dubious situations. It is ridiculous, nonsensical, silly and glorious fun. Hosted by Barcelona's resident laughter conduit, Andy Casper, What Would You Do If That Was You? (to give it its full title) sees experienced comedians mucking around for an hour whilst the audience laugh their brains out of their ears.
What kind of situations will contestants face?
🦕🍗 An example of the kind of moral quandary that the contestants are likely to face: You work at KFC and a seemingly kind dinosaur wants to order some chicken yet is being chased by an angry man shouting, ''He ruined my garden!'' The dinosaur has a rake sticking out of its bum. What Would You Do If That Was You?
What makes the show unique and special?
- an original PowerPoint presentation 📊
- original video clips 📹
- original songs 🎵
- original artwork designed exclusively using Paint 🎨
- an originally designed role-playing game in the final round 🎲
Who is the host?
Andy Casper is a comedian who adores daftness and misery. Somewhat of an outsider, he is relentlessly likable, daring and odd. He is the host of Imprfcto Comedy, an off-beat open mic that supports local talent, and The Sadness Cabaret, Barcelona's Alternative Comedy Night. In May 2022, he performed his first ever hour long solo stand up show in Barcelona: Generic Comedy Entertainment Event. In August 2022, he and his friend Héctor Ayala took their split hour show, Brexico, to the Edinburgh Fringe Festival for the full run, performing 22 nights in one month.
Event Details:
📅 Every other Tuesday
⏱️ 20:00
📍 The Comedy Clubhouse, Carrer dels Canvis Nous, 10
💰 Pay What You Want
🗣 English
What Our Customers Say?
We have an average rating of 4.8 Stars on Google across hundreds of reviews. 99% of the people that come to The Comedy Clubhouse love what we do. They like the friendly down to earth atmosphere that The Clubhouse has and appreciate that we are creating a space for Stand-Up Comedians to hone their art and be the best that they can be.
Here's Some Nice Stuff People Have Said Recently
'First time seeing a live stand up comedy show. Great show, great artists and a very welcoming environment. I'm already thinking about getting tickets for the next show.' - Luca (Google)
'Small and cosy, drinks available, friendly staff and we had a good laugh. There was a last minute cancellation and they managed to find a replacement artist who was great!' - Gabriel (Google)
'Fantastic comedy club with a friendly crew. They create a cozy space and serve up affordable drinks! Many laughs have been had and this is the only bar since 2003 where I have ever heard Limp Bizkit played🤣' - Sarah (Google)
You can see hundreds more 5 Star Reviews on Google & TripAdvisor
Some People Don't Like Us
Around 1% of the people that come to The Comedy Clubhouse don't have a good time. Sometimes this is because they find the jokes offensive, or they think it's too crowded, occasionally they are expecting a bigger range of beer or wine, or they want a bigger range of drinks or table service.
The Comedy Clubhouse isn't for everyone. It's for people that want a non-pretentious night out in Barcelona where they can watch a high quality stand-up comedy in an intimate lounge room atmosphere. It's for friendly people that want to meet other people and for couples that want an awesome date night. It's not for people that want 14 Euro cocktails and table service.
The Comedy Clubhouse
The Clubhouse is Barcelona's only dedicated comedy club. We started it in the middle of the Covid pandemic at a time where bars had capacity restrictions & had to close at 5pm. Despite these hurdles, people loved the vibe and came out to support the 1pm and 3pm shows.
Since beginning at Pub Limerick in Eixample we have moved to a bigger venue in the Born neighbourhood. We have increased our staff and now have a booker, video editor, bar manager, improv teacher & more.
We now produce 20+ Shows a week in English, Spanish & 4 plus other languages. We also have plenty of opportunities for people to learn comedy through our Comedy Schoolhouse and Open Improv Workshops. See all of our shows and find out about classed through our website here.
We also make sketches, videos, ads, podcasts & interview the comedians on our Instagram page @TheComedyClubhouseBcn
About the organizer
Barcelona's first (and only!) dedicated comedy club in the heart of Barcelona!