4 asociaciones del www.RyderClubSpain.com: Kellogg , UCLAAANS, MIT Club y Fulbright Alumni Association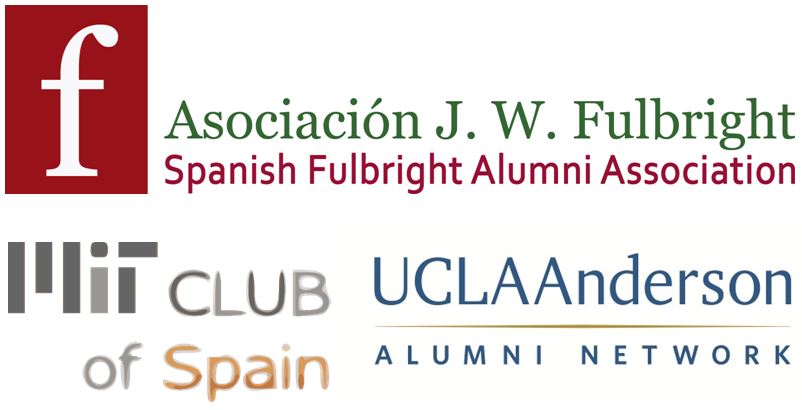 Kellogg Alumni Club, Fulbright Alumni Association, MIT Club of Spain y UCLA Anderson Alumni Network of Spain organizan el evento e invitan a los miembros del Ryder Club de España.
El Ryder Club de España (RCE, más info en www.RyderClubSpain.com) es una meta-asociación que engloba a diversas asociaciones de ex-alumnos de universidades internacionales de prestigio, sobre todo de Estados Unidos y Europa.  El 1 de abril de 2009 se constituyó legalmente como asociación. Fruto de esta colaboración, los asociados de cada asociación miembro reciben invitaciones a actividades organizadas por las otras asociaciones. Las actividades incluyen conferencias, mesas redondas, cenas, presentaciones de libros y fiestas, entre otras. Así compartimos experiencias comunes, conocimientos, y cultivamos una red de contactos, ampliando el círculo de conocidos.
The Ryder Club of Spain (RCE) is an association encompassing alumni clubs of prestigious international universities, mainly in the US and Europe. It was legally established on April 1, 2009. As a result of this collaboration, members of each association receive invitations to activities organized by the other associations, with a frequency of about two or three events per week. The range of activities is very diverse: conferences, round tables, dinners, book presentations, parties and others. This way, we can share common experiences and knowledge as well as meet new people, allowing us to broaden our contact networks.
Las siguientes asociaciones forman parte del Ryder Club de España (en algunos casos, el club o asociación incluye a la universidad entera y en otros sólo a la escuela de negocios):
The following alumni associations are part of the Ryder Club of Spain (in some cases, the club or association includes the whole university and in others it is only the business school)
Babson College

Bocconi Alumni Association Madrid

Boston College

Bowdoin Club of Spain

Emory University Alumni

Fletcher Club of Spain

Fulbright Alumni Association

HEC

London Business School

London School of Economics

Manchester Business School

NorthWestern – Kellogg GSB

Notre Dame

Sciences Po Alumni – Asociación Ibérica

Stanford – GSB

The University of Chicago

University of California at Berkeley-Haas School of Business