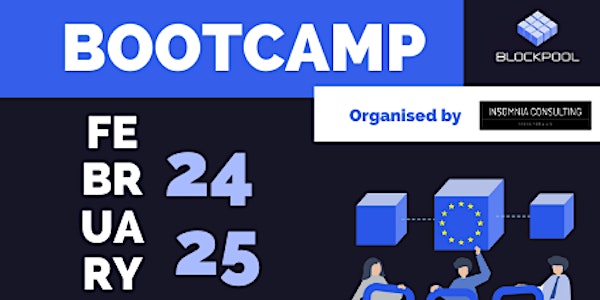 Blockpool 3rd Bootcamp
Third cross-border bootcamp of the Horizon 2020 Blockpool Project.
About this event
The aim of Blockpool cross-border international boot camps is to support the selected SMEs conducting their Deployment Pool project through capacity building in view of a smoother, more efficient and successful execution; as well as to extend this opportunity to other relevant stakeholders from all over Europe. We are aiming at encouraging more SMEs to take advantage of BDLTs and intermediaries to become more familiar and equipped with BDLT knowledge to assist SMEs.
WEDNESDAY 24 FEB
9.00 – 9.30 – Breakfast Presentation by Insomnia, Carmen Serna
9.30 – 10.30 – Blockchain standardization for innovative companies and startups, Paolo Campegiani
Blockchain and digital identity expert.
10.30 – 12.00 – Workshop: Platform Design Strategies, Renzo D'Andrea and Luca Ruggeri
An interacting session to explore a methodology for designing platforms. We will address platform design frameworks, a unified market theory and a set of tools. With a dynamic feedback approach we would love to listen to your questions and platform strategies awareness.Speakers:- Renzo D'Andrea, UX & Service Designer at www.changetheriver.org., Platform Design Toolkit Contributor.- Luca Ruggeri, Co-Founder Platform Design Toolkit.
12.00 – 13.00 – Workshop: How to design a successful deck for an MVP, Cristina Carrascosa
This session will help you to successfully design a one-pager deck for your MVP (last deliverable of the Blockpool Accelerator)
13.00-13.30 - Blockchain meets Quantum, Dimitar Anastasovski
Distributed Ledger Techonology and IOT at Cefriel
- - - - -
15.00 – 16.00 – Standardization development in support of Blockchain boosting energy transition and decentralization, Bernard Gindroz
BMGI Consulting Owner
16.00 – 17.00 – Panel Discussion: The rise of CBDC, Veronika Kuett
Bitcoin | DeFi | CBDCs | Strategy | Leadership | Futurism | Public Speaking
Panelists:
Simon Hess, Researcher, University of Salzburg
Valeria Aragonés, Cryptoeconomics Researcher and Consultant, Konfid.io
Horst Treiblmaier, Professor for international management, Modul University Vienna
Blanca Zutta, Blockchain strategist, World Trade Organization
17.00 -18.00 - Make your Blockchain Project Known OR Advertise your Blockchain Project OR Good Marketing Practices in the Blockchain Industry, Quentin Herbrecht
THURSDAY 25 FEB
9.00 – 9.30 - Tokenization as a strategy to attract investors, Francesco Piras, Co-founder BrightNode.
The tokenization of a company or an asset opens up new market opportunities. Thanks to a growing institutional attention, including regulatory, towards cryptocurrencies, security tokens become a new way that every company, new or existing, should try to follow to attract investors.
9.30 – 10.30 – Panel Discussion: Commercialization Strategies, Francisco Sarrias,Senior Sales Engineer at Jelurida Swiss SA.
Panelists:
Mobolaji Onibudo, CEO, Digital Transaction Services Ltd
Owen McCall, Marketing Director, TreeCoin, Global Tree Project
Shayne Tan, Co-Founder & CMO, Coalculus Blockchain
Are corporates and public administrations ready for decentralized solutions? - Which are the obstacles to sell blockchain based projects to traditional business? Are CIO's ready to buy blockchain solutions in 2021 or we need to wait until 2023 as Gartner predicts?- After the failure of some relevant private blockchains, is the market ready for public and hybrid solutions?
10.30 – 13.00 – The Blockpool Observatory Lab, Blockpool Team
Don't miss this break-out session with the 25 selected SMEs and their 25 External Mentors (mandatory participation).
- - - - -
15.00 – 16.00 – Workshop: Blockchain in the Biotech Sector, Pablo López
Innovation Manager and Blockchain Solutions Designer
16.00 – 17.00 – Workshop: BDLT in the Logistic Sector, Giovanni Di Noto
CloudyBoss group of companies, Omega group of companies, others
Roles: various directorships and tech advisory roles (DLT, AI, IoT, cyber-security, other techs)