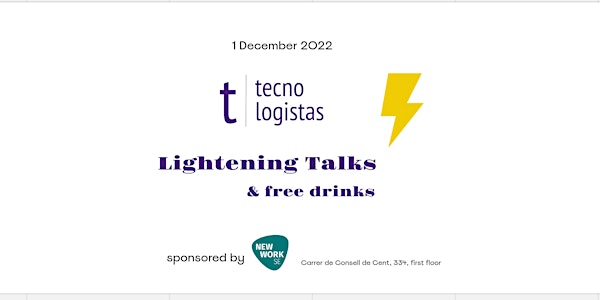 Las Tecnologistas Lightening Talks
Join us for an evening of short, interesting talks by women for women on Agile & Tech plus some time to mingle & connect over drinks.
When and where
Date and time
Thu, 1 Dec 2022 18:30 - 20:30 CET
Location
New Work Spain Consell de Cent, 334 (first floor) 08009 Barcelona Spain
About this event
We are a diverse group of women in tech from native developers to data scientists to analysts to IT product managers to agile coaches.
Did you know that only about 20-30% of public speakers in Spain are female? This may be because women often feel they have nothing to say or do not know enough.
The intention for this event is to create space for women's voices, a space to stand up and stand out, and of course to connect and have fun!
How it works:
Each presenter has 5-10mins to present a topic they are particularly passionate about or something they are keen on sharing with others. This is a great way to practice your presentation skills and to learn something new.
The overall theme for this event is: AGILE
Share your experience in Tech and/or with a particular agile practice such as pair programming, continuous refactoring, simple design, lean UX, reducing the business-tech divide, improved communication and collaboration, welcoming change, or with Kanban outside of programming etc. Whatever it is, come and share!
Rach out if you are interested in becoming a speaker at this or a future event!
18:30 - 19:00 Registration and mingle
19:00 - 19:30 Lightening Talks
19:30 - 20:30 Mingle & Drinks/snacks
PLAN B: If we have less than 3 speakers, we will do a World Cafe format instead. In this case, participants will share a topic and the most voted will be used to discuss in smaller groups. Participants can choose which topic to contribute to and can rotate to other groups as well.
Either way, there will be an opportunity to connect with others over drinks and snacks ;)
About the organiser
A group for women in tech in Barcelona