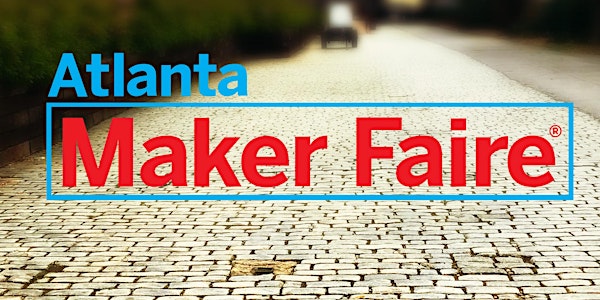 Maker Faire Atlanta 2017
When and where
Location
Georgia Freight Depot 65 Martin Luther King, Jr., Drive, S.E. Atlanta, GA 30303
Description
Attendance is Free! Why register for a ticket?
Signing up for a ticket will help us gauge how many people will be coming and help us plan our exhibits and interactive displays so that we will have enough materials for everyone to take part and enjoy. It also helps our sponsors so we can keep the event free!
Please bring your printed ticket or be prepared to show it on your mobile device to enter the Faire. If you are unable to register in advance, there will be free registration on site as well.
For details related to the Faire including a listing of Makers, Workshops and Programming schedule, please visit our website at www.makerfaireatl.com.
FAQ'S:
What days and hours will Maker Faire Atlanta 2017 be open to the public?

This year we are hosting a one day Faire on Sunday, October 22 from 10 am to 6 pm.
Where will Maker Faire Atlanta 2017 be taking place?
The Faire will be held at the Historic Georgia Freight Depot in downtown Atlanta. The Freight Depot is located next to Underground Atlanta and across the street from the Georgia State Capitol Building.
Where can I park?
The parking deck at 90 Central Ave. (directly behind the Depot) will have spaces available for only $5 for the entire day. There are several additional pay parking decks nearby (including at Underground Atlanta) - prices may vary. Use the Freight Depot address 65 Martin Luther King, Jr., Drive, S.E., Atlanta, GA 30334.
Is public transportation available?
Yes, MARTA has a couple of stations nearby within a couple of blocks of the venue - Five Points and Georgia State. See map below: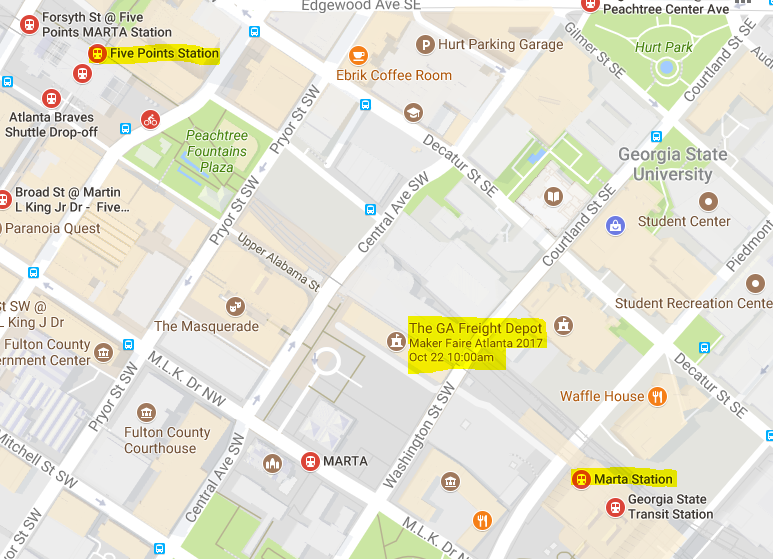 Will there be food?
Yes! There will be food and beverages available for purchase at the Faire.
Is the Faire Accessible for people with physical limitations?
Yes. Most of the Faire is outside on pavement. There is ramp access for the indoor portion of the Faire.
Can I volunteer at Maker Faire Atlanta?
YES! Please take a look at our volunteer form here.
What if it rains?
The show will go on! The Faire takes place mostly outdoors, so be sure to bring rain gear to keep you dry if the weather report looks dreary.
What can I expect?
To have a fantastic time! You'll be surprised and intrigued with every corner that you turn. There will be something for people of all ages and interests!
Are there ID requirements or an age limit to enter the event?
No - all ages are welcome! We do require that adults entering the Innovator's Playground area (for our youngest makers) be accompanied by a child under the age of 13.
Where can I contact the organizer with any questions?
If you have any questions, please contact us at admin@makerfaireatl.com.
I want to apply to be a Maker too! Is there still time?
Unfortunately, our Call for Makers is now closed. But please try again next year!
I'd love for my company to be a sponsor of Maker Faire Atlanta. Can you send me some information?
Yes! Maker Faire Atlanta is produced by Southeast Makers Alliance. Please visit our website to find out more about partnership and sponsorship opportunities or contact us for more information.