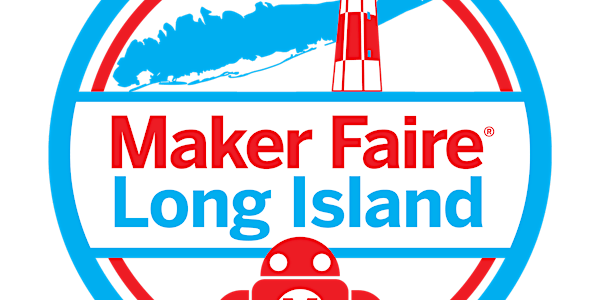 Maker Faire Long Island 2023
The Official Maker Faire Long Island is Back. We have been "Making" Maker Faires on Long Island since 2015!
Date and time
Saturday, June 3 · 10am - 5pm EDT
Location
Long Island Explorium, Port Jefferson, NY 101 East Broadway Port Jefferson, NY 11777
About this event
The Long Island Explorium is thrilled to host our 6th Annual Maker Faire Long Island on June 3, 2023, in the picturesque Village of Port Jefferson.
As part of the global Maker Faire brand, this event celebrates creativity and innovation in Science, Technology, Engineering, Art, and Math.
100+ makers and 2000+ participants of all ages will have the opportunity to experience innovative robotics, interactive art, and more through hands-on exhibits and performances at the Long Island Explorium, Village Center, and Harborfront Park.
By merging the classic science fair with elements of innovation, creativity, and engineering, Maker Faire has become a unique event and a showcase of makers' ingenuity, referred to as the "Greatest Show & Tell on Earth." Since 2015, Maker Faire Long Island has been attracting over 100 makers and 2000 visitors each year from the New York Tri-State area and beyond.
FAQs:❓
What day and hours will the Long Island Maker Faire be open to the public?
📅 June 3rd, 2023, Saturday, 10 am-5 pm
Where can I get a snazzy Maker Faire Long Island T-Shirt? 🅿️
Are you looking to get a Commemorative 2023 Maker Faire Long Island t-shirt? Click tickets to get the add-on option for the t-shirts. The preorder deadline and price is May 17th, 2023.
Where can I park? 🅿️
Port Jefferson has parking lots a short walk to the Maker  Faire.
Map for parking spaces can be found on the MFLI website found here: https://longisland.makerfaire.com/ 🗺️
Where is the handicap parking located?
Every parking lot in Port Jefferson has handicapped spaces in it. ♿
Is public transportation available?
Will you have bike parking?
🚲 Not on site but there are places in town to lock up your bikes
Can I bring my dog?
🐶 Sorry, we can't accommodate dogs.
Can I volunteer at the Maker Faire?
What if it rains?
☔ The show will go on! Rain or Shine! We have two large tents to keep everyone, visitors and makers, dry outside. Bring rain gear to keep you dry when walking outdoors.  Fortunately, we will have many indoor exhibits to keep the family dry.
What can I expect? 🤔
To have a fantastic time! You'll be surprised and intrigued with every corner you turn.
Is this age-appropriate for my children?    👶
YES! This Maker Faire is appropriate for ages 2-99!!
Rain or Shine. No Refunds/Exchanges. Tickets cannot be replaced.
 Thank you to our event sponsors:
 Long Island Explorium
Make: co
 Ticket use release of liability
This contract limits the liability of the Long Island Explorium ("The Explorium"), the Maker Faire Long Island, and its affiliates. You acknowledge that Maker Faire exhibits and activities are inherently hazardous and that risks to you as a Maker Faire attendee include physical injury and property damage. You are solely responsible for supervising/controlling the behavior of the children in your party for your/their safety. By using this ticket and/or participating in Maker Faire exhibits and/or activities, you assume all risks to you and/or your children of such, including damage, loss, harm, injury, and death to your person(s) and all risks resulting from negligent instruction or supervision, and you release The Explorium from all corresponding liability to you and your successors. Your rights are waived to any images and/or recordings you may appear in while at Maker Faire and any/all related promotional or documentary materials.
PHOTOGRAPH, RECORDING, AND PUBLICITY RIGHTS. You may appear in audio, visual, and/or audiovisual media recordings and images of Maker Faire and related promotional or documentary materials. You agree to your appearance and the appearance of your children in such recordings, images, and materials, and you waive any publicity rights or other rights you may have in such recordings, images, and materials. You consent to the use of such recordings, images, and materials by Promoters for any purpose without any compensation to you. Those uses may include without limitation transcription, modification, reproduction, public display, printing, uploading to websites, distribution, broadcast, and transmission in any form. You release Promoters from and waive any claims related to, the making and/or use of any such images, recordings, and materials.
Maker Faire Long Island is independently organized and operated under license from Maker Media, Inc.  
I understand that by registering here,  Maker Media may provide me with updates and information about Maker Faires, other events, and products of interest to the maker community.  I understand that I may opt out of these communications at any time.
About the organizer
About Maker Faire:
Maker Faire is the Greatest Show (and Tell) on Earth—a family-friendly showcase of invention, creativity and resourcefulness, and a celebration of the Maker Movement. It's a place where people show what they are making, and share what they are learning.
Makers range from tech enthusiasts to crafters to homesteaders to scientists to garage tinkerers. They are of all ages and backgrounds. The aim of Maker Faire is to entertain, inform, connect and grow this community.  There are over 200 Maker Faires annually around the globe.
About Make: Magazine:
Make: is the first magazine devoted entirely to Do-It-Yourself (DIY) technology projects. Make: unites, inspires, informs, and entertains a growing community of resourceful people who undertake amazing projects in their backyards, basements, and garages. Make: celebrates your right to tweak, hack, and bend any technology to your will. 
Besides the magazine and the faire, Make: Community is:
a publisher of best-in-category titles via Make: Books, including introductions to electronics, Raspberry Pi, 3D printing, Arduino and more.