Dit evenement is afgelopen.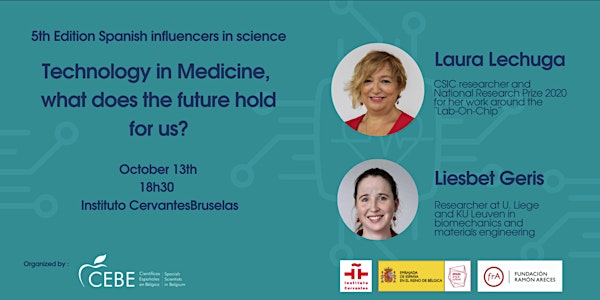 Spanish influencers in science 5th Edition
Medicine and Technology: what does the future hold for us?
Waar en wanneer
Locatie
Instituto Cervantes Bruselas Avenue Louise 140 1050 Bruxelles Belgium
Kaart en routebeschrijving
Over dit evenement
English (Spanish below) :
Once again, CEBE brings you THE Scientific event of the year ¨Spanish Influencers in Science¨, in collaboration with the Cervantes Institute and the Ministry of Culture and Science of the Spanish Embassy in Belgium. This 5th edition addresses the impact of technology on the future of medicine and, to enlighten us on the topic, we have the pleasure to count with Prof. Laura Lechuga Gómez, (researcher at the CSIC and National Research Prize 2020 thanks to her work around the ¨Lab-On-Chip¨) and Prof. Liesbet Geris (researcher at the University of Liège (U. Liege) and Leuven (KU Leuven) specialist in biomechanics and materials engineering). Are you going to miss it?
Register fast, there are limited spots available!
Spanish:
Un año más, CEBE te trae uno de los eventos científicos estrella ¨Spanish Influencers in Science¨, en colaboración con el Instituto Cervantes y la Consejería de Cultura y Ciencia de la Embajada Española en Bélgica. En esta 5ª edición abordará el impacto de la tecnología en el futuro de la medicina y para ello contaremos con Doña Laura Lechuga Gómez, investigadora del CSIC y Premio Nacional de Investigación 2020 gracias a su trabajo entorno al ¨Lab-On-Chip¨ y Doña Liesbet Geris, investigadora de la universidad de Lieja (U. Liege) y Leuven (KU Leuven) especialista en biomecánica e ingeniería de materiales.
¡No te lo pierdas, que hay plazas limitadas!