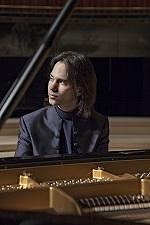 Horacio Lavandera
Horacio Lavandera has been highly praised by the international press:
"In the same way that Wynton Marsalis represents Jazz in the U.S., Lavandera represents classical music in Argentina". Keith Widyolar, New York Latin Culture Magazine.
"ECM - CD "Imagenes" one of the best 20 albums of the year 2015". Ted Gioia, New York Times http://www.tedgioia.com/bestalbumsof2015.html
"Lavandera offered a stupendous demonstration of rhythmic strength and subtlety, and play of color across the surface and through the depth of the music." Richard Dyer, Boston Globe.
"Horacio Lavandera brings Schubert to life". "What followed was the absolute highlight of the evening: audibly and visibly at the same time, Horacio Lavandera was able to immerse himself in the musical ideas of Franz Schubert and to bring to life the states of mind in the three Impromptus without any resistance. The argentine symbolically took the hand and lead Schubert's worlds of sound" – Bianca Schumann, Klassik begeistert, Vienna/Austria.
"Golden hands of a young prodigy" – Marie-Aude Roux, Le Monde, Paris/France.
"Horacio Lavandera proved to have extraordinary virtuoso skills, plus a first-class interpretive sense. His performance was high profile and received with unanimous success" – Tomás Marco, El Mundo, Madrid/Spain.
"As before, Lavanderas' many pedal art pieces were astonishing and exhilarating, his enormous virtuosity reminiscent of Maurizio Pollini's (and he was at least as virtuoso as the beloved Vladimir Horowitz)." Thomás Ziegner. Schwäbisches Tagblatt.
As the youngest competitor, he won the III International Piano Competition Umberto Micheli at the age of sixteen, in Teatro alla Scala in Milan (Italy), playing a diverse repertoire, including pieces from baroque to contemporary music. He was also awarded a Special Prize by the Orchestra Filarmonica della Scala, for his interpretation of Ravel´s Concerto in G Major in the final round.
From this moment on, he has been invited to perform as a soloist with prestigious orchestras, as well as to offer recitals in America, Europe and Asia.
He has performed in Carnegie Hall (New York), Berliner Philharmoniker (Berlin), Herkulessaal and Gasteig (Munich), Radio France (París), Wigmore Hall and St. John's Smith Square (London), Herbert Zipper Concert Hall (Los Angeles), Jordan Hall (Boston), Accademia Nazionale di Santa Cecilia (Roma), Musikverein and Kozerthaus (Vienna), Laeiszhalle (Hamburg), Hamarikyu Asahi Hall (Tokyo),   Teatro Real, Auditorio Nacional de Música (Madrid), Teatro Colón (Buenos Aires). As well, as a soloist with prestigious orchestras, including the Mozarteum Orchester Salzburg, Orquesta Sinfónica de Radio Televisión Española, London Chamber Pleyers, Orquesta Estable del Teatro Real, Orquestra Metropolitana de Lisboa, Youth Orchestra of the Americas, Orquesta Sinfónica de la Ciudad de Oviedo, Orquestra Nacional do Porto, Orquestra do Norte (Portugal), Orquesta Sinfónica Nacional (Argentina), Orquesta Filarmónica de Buenos Aires, Filarmonica della Scala di Milano (Milan), among others.
His performances have been broadcasted on radio and television in various countries. He has ten musical productions: "Debut" (2001), sponsored by Shell CAPSA, "Youth Orchestra of the Americas" (2002) by Deutsche Bank, "Three Bs"(2005), by Supervielle Bank, "Live in Japan" , "Spanish composers of the generation of 51" (2007), by the Community of Madrid and CD + DVD "Argentine Composers" (2009) recorded by Sony Music /Calle Angosta and "Chopin" (2012), produced and edited by EPSA Music. In 2015 releases his CD "Live in London" Edited by EPSA Music, and the German label ECM Records launches CD "Images" produced and edited by Manfred Eicher, with works by Dino Saluzzi. In 2016 the NIBIUS label released his CD "Horacio Lavandera Plays Astor Piazzolla".
In 2014, he was featured in the film "Zonda, folclore argentino", by world known Spanish filmmaker Carlos Saura.
Zipper Concert Hall • Los Angeles, CA
15 $ - 30 $