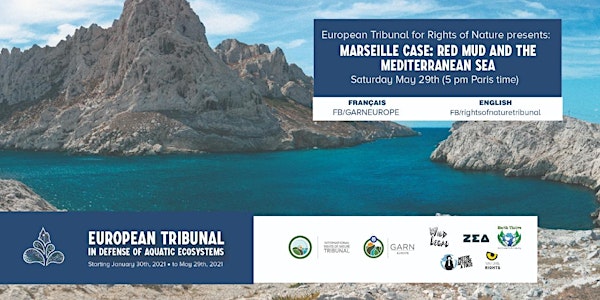 5th CASE: Marseille case - European Rights of Nature Tribunal 2021
EUROPEAN RIGHTS OF NATURE TRIBUNAL, IN DEFENSE OF AQUATIC ECOSYSTEMS' fifth case - Marseille red muds ecocide
About this event
The Tribunal will hear and try five critical aquatic ecosystem cases brought by frontline, impacted communities, and experts from across Europe.
This fifth and final case in the series is focusing on Marseille's red muds.
The factory of Gardanne (Bouches du Rhône), is producing alumina or aluminum oxide, a material used to make electronic components, ceramics and refractory material. This activity emits toxic waste full of heavy metals and heightened radioactivity, causing the famous "red muds", and it has been happening with state authorization since 1967.
Through a 55 km long pipe, they are spread at a depth of 320 meters in the Cassidaigne canyon, an oceanic trench that used to be home to extraordinary biodiversity.
In total, 32 million tons (kg) of mud have been discharged. Nature's destruction is so serious, that it seems scientifically impossible to restore the ecosystems. It is a violation of the ocean's rights and a major ecocide case.
Register now here (green button above)
#RightsofNature #RightsofNatureTribunal #Marseille #France #RedMuds
For more info please click here.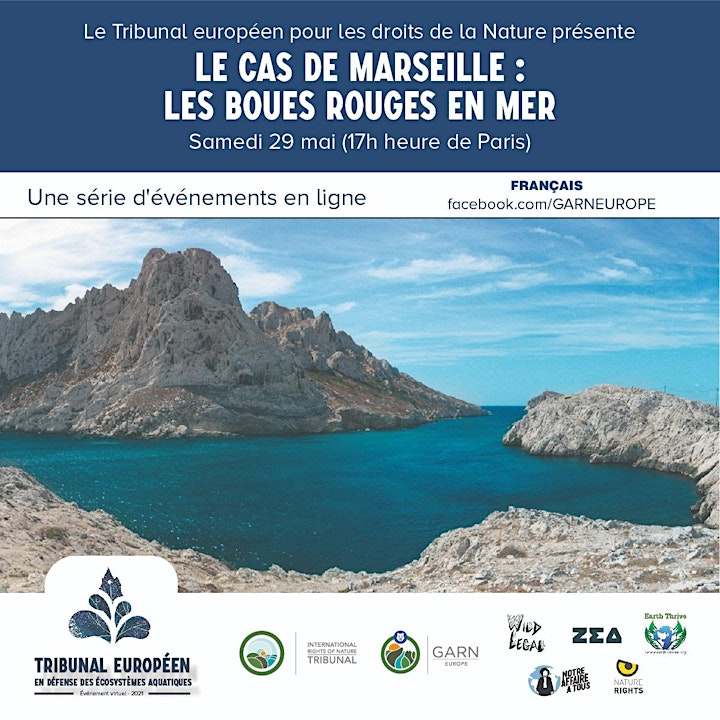 Rejoignez-nous au Tribunal européen pour la défense des écosystèmes aquatiques : Des droits pour la Nature à #Marseille
🗓 Samedi 29 mai (17h heure de Paris)
L'usine de Gardanne (Bouches du Rhône), produit de l'alumine ou oxyde d'aluminium, un matériau utilisé pour fabriquer des composants électroniques, des céramiques et des matériaux réfractaires. Cette activité émet des déchets toxiques chargés de métaux lourds et d'une radioactivité accrue, à l'origine des fameuses "boues rouges", et ce, avec l'autorisation de l'État depuis 1967.
Par une canalisation de 55 km de long, elles sont répandues à 320 mètres de profondeur dans le canyon de Cassidaigne, une fosse océanique qui abritait autrefois une biodiversité extraordinaire.
Au total, 32 millions de tonnes (kg) de boue ont été déversées. La destruction de la nature est si grave qu'il semble scientifiquement impossible de restaurer les écosystèmes. Il s'agit d'une violation des droits de l'océan et d'un écocide majeur.
Plus d'infos : rightsofnaturetribunal.org/cases/marseille-case