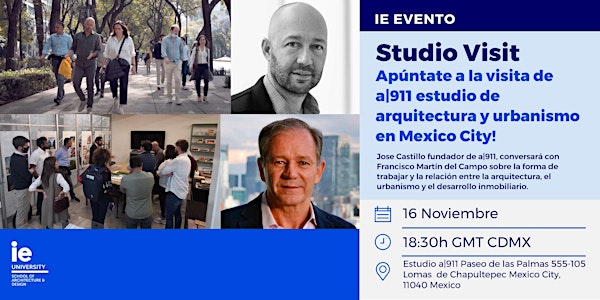 Architecture Studio Visit Series: a|911 Edition
Studio Visit presencial en Ciudad de México de la mano del fundador de a|911
When and where
Location
Estudio a|911 Paseo de las Palmas 555-105 Lomas de Chapultepec Mexico City, 11040 Mexico
About this event
Acompáñanos en esta visita al estudio de arquitectura y urbanismo a|911 en Ciudad de México y escucha una conversación informalentre Jose Castillo, fundador del estudio, y Francisco Martín del Campo sobre ciudad, arquitectura y desarrollo inmobiliario
Nuestros ponentes analizarán estos temas desde la perspectiva de las relaciones entre arquitecto y cliente así como arquitecto y desarrollador, y podrás entender el cómo trabaja a|911 en estos campos.
About the Speakers
Jose Castillo Oléa es arquitecto egresado de la Universidad Iberoamericana, con maestría y doctorado en Urbanismo por la Graduate School of Design de la Universidad de Harvard, donde ha sido profesor invitado en varias ocasiones. En 2002 fundó con Saidee Springall a|911 un despacho dedicado a proyectos de arquitectura, urbanismo y movilidad. Entre sus proyectos estan la ampliación del Centro Cultural de España, el Centro Cultural Elena Garro y la Biblioteca Jaime García Terrés. Su obra y escritos han sido ampliamente publicados en medios nacionales e internacionales. Actualmente forma parte del cuerpo docente del IE School of Architecture.
Francisco Martín del Campo es arquitecto egresado de la Universidad Anahuac. Funda en 1983 junto con Jose Portilla, Grupo Arquitectoma, un despacho de arquitectura y desarrollo inmobiliario con obra construida a lo largo del país. Entre sus obras notables están Chapultepec Uno, Garden Santa Fé y Torres Bioparque. Ha sido profesor de proyectos en la Universidad Iberoamericana.